FOR DEMO WHATSAPP US ON +2348061676089
SEND US A MESSAGE ON FACEBOOK FOR MORE INFO and DEMO
https://facebook.com/websaro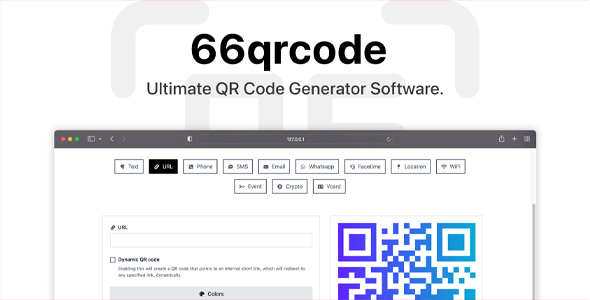 66qrcode is a powerful, yet simple to use, QR code generator and URL shortener SAAS application that enables users to quickly and easily generate custom QR codes for various purposes, such as product packaging, promotion, event registration, download links, and more. With 66qrcode, users can create QR codes that incorporate their brand colors, logos, images, and text, as well as track and analyze their QR code campaigns to optimize their marketing efforts.
Key Features:
1. Custom QR Code Generator: Generate custom QR codes by uploading your own logo, selecting your brand colors, and adding text and images.
2. Dynamic QR Codes: Generate dynamic QR codes that can be redirected to different URLs based on various parameters, such as geolocation, time, and more.
3. URL Shortener: Shorten URLs to share them easily and effectively on social media, email, and other online channels.
4. Campaign Management: Track and measure your QR code campaigns through advanced analytics, including scan location, device type, and scan time.
5. Multiple QR Code Formats: Generate QR codes in different formats, including URL, SMS, Email, Phone, VCard, Google Maps, and more.
6. Scalable Architecture: 66qrcode uses scalable architecture that enables it to handle large volumes of QR code traffic and scan analytics.
7. API Integration: Integrate 66qrcode API with your existing applications and websites to add QR code functionality.
8. User Management: Manage users and their QR code campaigns through advanced user management tools that provide granular control over access and permissions.
With its intuitive interface, powerful features, and flexible pricing plans, 66qrcode is the ultimate QR code generator and URL shortener tool for businesses of all sizes.
[