FOR DEMO WHATSAPP US ON +2348061676089
SEND US A MESSAGE ON FACEBOOK FOR MORE INFO and DEMO
https://facebook.com/websaro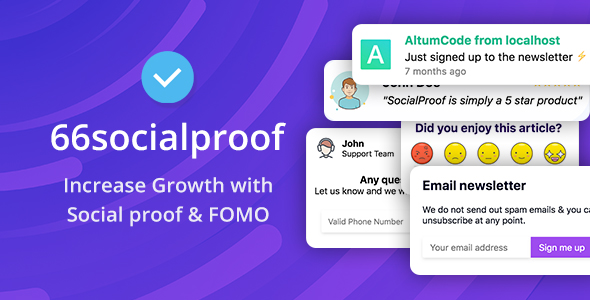 66SocialProof is a powerful social proof and FOMO (fear of missing out) notifications software that helps online businesses increase their conversion rates by displaying real-time notifications of recent user activity, sales, and other engagement actions on their websites.
With 66SocialProof, you can easily create and customize different types of social proof and FOMO notifications to show to visitors who are browsing your site. These notifications can include recent purchases, subscription sign-ups, customer reviews, live visitor counts, and more.
Some of the key features of 66SocialProof include:
1. Easy integration: 66SocialProof can be easily integrated with your website using a simple code snippet or by installing a plugin for popular website builders like WordPress, Shopify, and Wix.
2. Real-time updates: All notifications are updated in real-time, displaying the latest user actions on your site as they happen.
3. Customization: You have complete control over the design, content, and placement of your social proof and FOMO notifications, letting you tailor your messages to your target audience.
4. A/B testing: 66SocialProof lets you perform A/B testing to see which types of notifications are generating the most engagement and conversions, making it easy to optimize your campaigns for maximum success.
5. Analytics: Detailed analytics provide insights into user behavior and help you measure the effectiveness of your social proof and FOMO campaigns.
In summary, 66SocialProof is a comprehensive social proof and FOMO notifications software that helps businesses drive more conversions and sales. So, if you want to boost your website's credibility, increase customer trust and engagement, and ultimately drive more sales, 66SocialProof is the tool you need.
[