FOR DEMO WHATSAPP US ON +2348061676089
SEND US A MESSAGE ON FACEBOOK FOR MORE INFO and DEMO
https://facebook.com/websaro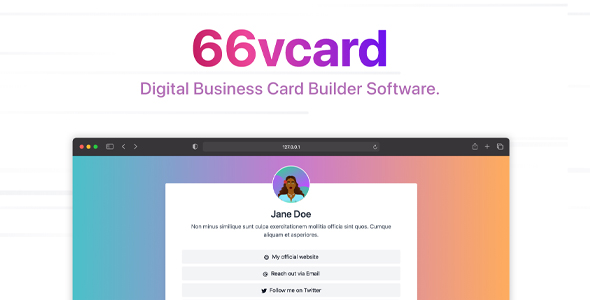 66vcard is a highly advanced, yet easy-to-use SAAS application for creating and managing digital business cards. With 66vcard, you can easily and quickly build digital business cards that will make you stand out from the crowd and showcase your business in the best possible way. Whether you are a solo entrepreneur, a small business owner or a large corporation, 66vcard has got you covered.
Built on cutting-edge technologies, 66vcard offers a range of advanced features that are designed to enhance the user experience and make creating digital business cards a breeze. Here are some of the top features of 66vcard:
1. Easy-to-use drag and drop interface for creating and editing digital business cards
2. A wide range of customizable templates to choose from
3. Ability to create custom templates from scratch or modify existing ones
4. Multiple card design options including single-sided, double-sided, folded, and more
5. Built-in QR code functionality for easy sharing and scanning of cards
6. Integration with popular social media platforms for easy sharing of cards
7. An array of customizable fields and options to include on your digital business card
8. Manage and organize all your digital business cards from within one central dashboard
9. Advanced analytics and tracking tools to help you monitor engagement and track the success of your business cards
10. Custom branding options to make your digital business cards look and feel like your own
66vcard is an ideal solution for anyone who wants to create and manage professional-looking digital business cards quickly and easily. Whether you are an entrepreneur, small business owner or corporate professional, 66vcard has all the tools and features you need to create beautiful and engaging digital business cards that help you stand out and build your brand.
[