FOR DEMO WHATSAPP US ON +2348061676089
SEND US A MESSAGE ON FACEBOOK FOR MORE INFO and DEMO
https://facebook.com/websaro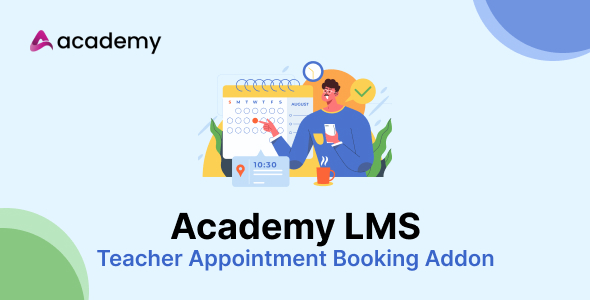 Academy LMS Teacher Appointment Booking Addon is a powerful tool that allows teachers to manage and schedule appointments with their students. This comprehensive addon extends the functionality of the Academy LMS system, making it an even more effective e-learning platform.
With the Teacher Appointment Booking Addon, teachers can create a schedule of available appointment slots, which students can then book and attend. This helps to eliminate conflicts and saves time for both teachers and students.
Features:
1. User-friendly interface – The addon has an easy-to-use interface that makes it simple for teachers to set up appointments and for students to book them.
2. Customizable appointment slots – Teachers can choose the length and timing of their appointment slots, as well as define the maximum number of students who can book during each slot.
3. Appointment reminders – The addon sends automatic reminders to both teachers and students before scheduled appointments.
4. Calendar integration – The addon integrates with popular calendar apps, such as Google Calendar, iCal, and Outlook, to help teachers keep track of their appointments.
5. Notification system – The addon sends notifications to both teachers and students when an appointment has been booked or canceled.
6. User access control – The addon has powerful user access controls that give teachers complete control over who can book appointments with them.
7. Multiple payment gateway integration – The addon supports multiple payment gateways, including PayPal, Stripe, and more, making it easy for teachers to collect payment from students who book their appointments.
Academy LMS Teacher Appointment Booking Addon is a must-have for any teaching professional who wants to streamline the appointment scheduling process and deliver a better learning experience for their students. Get this addon today and start enjoying the benefits of a fully automated appointment booking system.
[