FOR DEMO WHATSAPP US ON +2348061676089
SEND US A MESSAGE ON FACEBOOK FOR MORE INFO and DEMO
https://facebook.com/websaro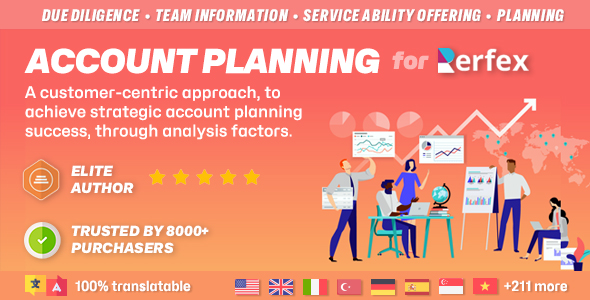 Account Planning Module for Perfex CRM is the perfect solution for strategic planning and management of your clients' accounts. With this module, you can plan, track and execute your clients' goals and objectives, and keep your team on the same page.
Features:
1. Strategic Planning: With this module, you can define and set your clients' strategic goals and objectives. The module provides you with a comprehensive toolset to create, manage, and update your clients' account plans.
2. Client Engagement: The module makes client engagement easy with a central hub to communicate, collaborate, and track progress. This ensures that all parties are on the same page and working towards the same objectives.
3. Collaborative Workflows: The module enhances team collaboration by enabling team members to work together on the same account plan. All team members can track the progress and status of project tasks, ensuring accountability and transparency.
4. Trackable Progress: The module provides a progress tracking tool that tracks the completion of individual tasks and overall objectives. This feature makes it easy to monitor the success of account plans and make adjustments as needed.
5. Customizable Account Plans: The module allows you to create custom account plans for individual clients. You can choose different goals and objectives, and personalize the plan to suit the specific needs of each client.
6. Activity Management: The module provides you with a comprehensive set of tools to manage and track client activity. This feature makes it easy to keep track of scheduled meetings, key milestones, and other activities that impact account planning.
Account Planning Module for Perfex CRM is a comprehensive solution for businesses looking to improve their clients' account management. With its many features and benefits, this module is a must-have for any business looking to improve its customer relationship management capabilities.
[