FOR DEMO WHATSAPP US ON +2348061676089
SEND US A MESSAGE ON FACEBOOK FOR MORE INFO and DEMO
https://facebook.com/websaro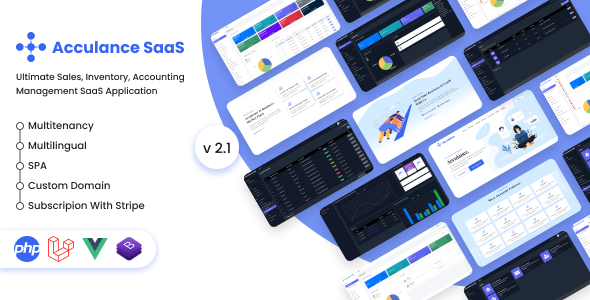 Acculance SaaS is an all-in-one solution for small to medium-sized businesses looking for a POS and accounting management system that offers complete data protection and security, like no other. Acculance SaaS boasts of an extensive set of features that cater to every need of businesses, from single stores to multi-chain outlets, allowing for seamless control of all business operations through a unified platform.
With Acculance SaaS, business owners can easily monitor sales, manage inventory, as well as keep track of their finances, all through a single platform. Acculance SaaS also offers full support for multi-tenant architecture, allowing businesses the flexibility to add and manage multiple stores from one place.
Key features of Acculance SaaS include:
1. Point of Sale (POS) system tools – Easily manage your sales and inventory with Acculance SaaS's POS features. Acculance SaaS offers barcode scanning, customer profiles, tax management, and a robust payment gateway integration, making sales transactions simpler and more secure than ever.
2. Accounting Management – Track your business finances and gain insights into your profits with Acculance SaaS's in-built accounting management system. The platform also enables invoice management, bank reconciliation, expense tracking, weekly and monthly financial statements for better decision-making.
3. Multi – store management – Managers can oversee multiple stores from one platform, monitor sales data from all stores, and securely manage stock levels, prices, and promotions.
4. Customer management – Acculance SaaS's customer management tool allows businesses to keep detailed customer profiles with their purchase history, preferences, and contact information. This feature allows businesses to analyze customer behavior and provide tailorable experiences.
5. Secure data – Acculance SaaS ensures the utmost in data security with its robust firewalls, backup solutions, and data encryption technologies. This ensures that all the sensitive business data is safe.
6. Customizable reports – Generate custom reports with Acculance SaaS's sophisticated analytics tools to help you make informed decisions that positively impact your bottom line.
7. Notifications – Acculance SaaS notifies store owners of any suspected security breaches, updates, and errors via email or mobile notifications in real-time.
In summary, Acculance SaaS provides an intelligent, easy-to-use, and comprehensive solution for businesses of any size. With Acculance SaaS, you can take your business to the next level and stay ahead of the game. Your satisfaction with Acculance SaaS is guaranteed as we continue to release new updates and features that cater to your needs. Try out Acculance SaaS today, and watch your business grow.
[