FOR DEMO WHATSAPP US ON +2348061676089
SEND US A MESSAGE ON FACEBOOK FOR MORE INFO and DEMO
https://facebook.com/websaro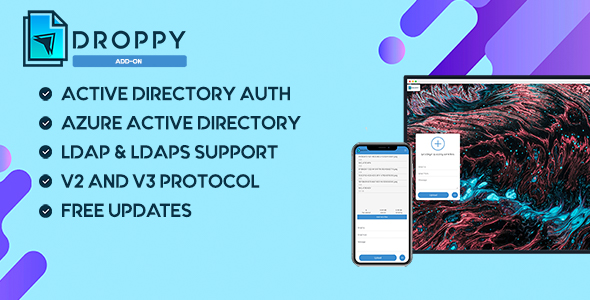 Active Directory – Droppy online file transfer and sharing is a powerful tool designed to simplify and secure file sharing between individuals and teams. Whether your business is looking for a secure way to share information amongst employees or simply needs a way to transfer files without limitations, Active Directory – Droppy can help.
With this tool, you can easily share files with anyone, anywhere without the hassle of traditional file transfer methods. Active Directory – Droppy is built with security and ease-of-use in mind, resulting in a platform that's as safe as it is simple. Some of its key features include:
1. Active Directory Integration
Integrates with your existing Active Directory solution, allowing for easy user authentication, group management, and permissions.
2. Secure File Sharing
Files are securely shared between users, eliminating the risk of sensitive information falling into the wrong hands.
3. User-Friendly Interface
Active Directory – Droppy features a modern, user-friendly interface that simplifies the file sharing process, making it easy for users of all skill levels to share files.
4. Customizable Settings
Customizable settings allow you to control the file sharing experience, including file size limits, download limits, and permissions.
5. Detailed Reports
Active Directory – Droppy provides detailed reports on file sharing activity. With this information, you can easily track user activity and monitor file sharing practices.
6. Robust File Management
With Active Directory – Droppy, you can store and manage your files in one location, making it easy to access and share them as needed.
7. Notifications and Alerts
Push notifications and alerts let you know when files have been shared or downloaded, providing greater visibility and control over your files.
In summary, Active Directory – Droppy online file transfer and sharing is an easy-to-use and powerful file sharing tool that simplifies and secures file sharing processes. It's customizable and can be integrated with your existing Active Directory solution, providing a unified experience for your team and greater control over file sharing practices.
[