FOR DEMO WHATSAPP US ON +2348061676089
SEND US A MESSAGE ON FACEBOOK FOR MORE INFO and DEMO
https://facebook.com/websaro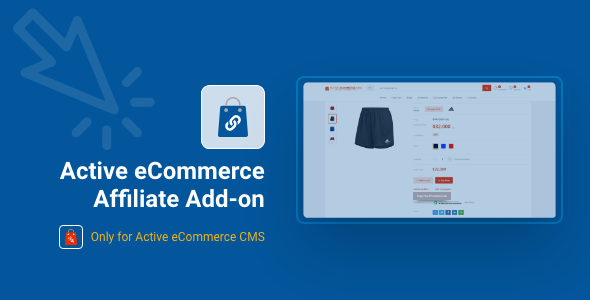 Active eCommerce Affiliate add-on is an innovative and intuitive software solution designed to help e-commerce site owners increase their revenue by leveraging the power of affiliate marketing. It offers a seamless, hassle-free process for both affiliates and merchants, enabling them to collaborate effectively and achieve their business goals.
Features:
1. Easy to Install: This add-on is easy to install and can be integrated with any Active eCommerce software package with a few clicks.
2. User-Friendly Interface: The add-on comes with a user-friendly interface that makes it easy for merchants and affiliates to navigate it and conduct their business.
3. Multi-level Affiliate Marketing: It supports multi-level affiliate marketing that enables merchants to reward their affiliates based on their performance. Affiliates can also refer other affiliates and earn commissions on their sales too.
4. Commission Management: The add-on provides an advanced commission management system designed to monitor commission sales, payouts, and refunds.
5. User Role Management: Merchants can decide on the level of access they want to provide to affiliates, and affiliates can also manage their access and permissions.
6. Customizable Commission Rates: Merchants can set up custom commission rates for their affiliate programs, either as a fixed or percentage amount.
7. Automated Payouts: The add-on provides a seamless process for merchants to pay their affiliates. Payouts can be automated, and affiliates can have access to track their payouts.
8. GDPR Compliance: The add-on is GDPR compliant and offers data protection compliance solutions to ensure the protection of data.
In conclusion, Active eCommerce Affiliate add-on is an all-in-one solution for merchants looking to leverage the power of affiliate marketing. With its user-friendly interface, multi-level affiliate marketing system, commission management, and GDPR compliance, merchants can set up an affiliate program that is both profitable and efficient. Get this add-on for your eCommerce website today and start boosting your revenue with a reliable affiliate program.
[