FOR DEMO WHATSAPP US ON +2348061676089
SEND US A MESSAGE ON FACEBOOK FOR MORE INFO and DEMO
https://facebook.com/websaro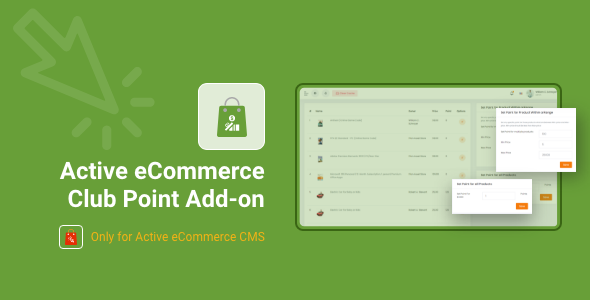 Active eCommerce Club Point Add-on is an essential tool for any online store owner using the Active eCommerce platform. This add-on empowers you by allowing your customers to earn reward points for various site interactions and purchases, which can be used for discounts on future purchases. With this add-on, you can easily increase customer loyalty, drive engagement, and increase sales by incentivizing repeat purchases.
Key Features:
1. Transparent Reward Points System: Display and manage the reward points earned by your customers.
2. Complete Control: You have complete control over what actions earn reward points and how many points are earned.
3. Point Management: You can easily manage the reward point system by adding or removing points from customer accounts.
4. Customizable Redemption System: Customers can redeem points for discounts on their future purchases.
5. Points Report: A dedicated report offers an overview of all the reward points earned and redeemed.
6. Easy Installation: The add-on can be easily installed with just a few clicks.
7. Flexible Settings: You can easily tweak the settings to meet your unique business needs.
8. Multi-language Support: The add-on supports multiple languages, making it easy to cater to customers from different locations.
If you're looking for a way to boost sales, engage your customers, and increase customer loyalty, Active eCommerce Club Point Add-on is the perfect solution for you. It's packed with powerful features that make it easy to implement and manage a rewarding system for your customers. Try it today and take your online store to the next level!
[