FOR DEMO WHATSAPP US ON +2348061676089
SEND US A MESSAGE ON FACEBOOK FOR MORE INFO and DEMO
https://facebook.com/websaro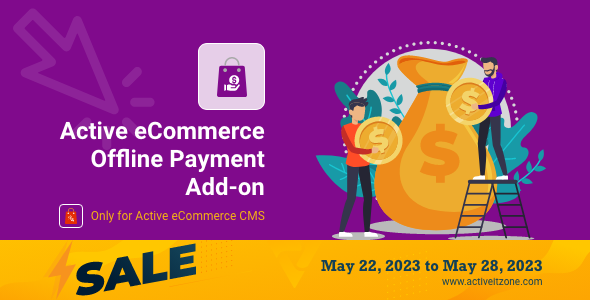 Active eCommerce Offline Payment Add-on is the perfect solution for eCommerce store owners who want to provide their customers with the option to make payments offline. This add-on is a great way to increase customer satisfaction by providing them with a payment method that they are comfortable with and trust.
Features:
1. Offline mode – This add-on enables offline payment mode in your Active eCommerce store.
2. Easy installation – The installation process is simple and takes only a few minutes to complete.
3. Multiple payment options – This add-on provides various payment options such as bank transfers, pay on delivery, cash on pickup, and more.
4. Customizable payment page – You can customize the payment page of the add-on to match your store's branding.
5. Automatic order updating – Once the payment is made offline, the order will be automatically updated in the store.
6. Notification – Both the store owner and the customer will receive a notification once the payment is made.
7. Secure payments – This add-on ensures secure offline payment transactions between the customer and the store.
8. Compatible with Active eCommerce CMS – This add-on is compatible with Active eCommerce CMS, making it easier to integrate it into your eCommerce store.
In conclusion, Active eCommerce Offline Payment Add-on is a powerful tool that enables store owners to expand their payment options and increase customer satisfaction. Adding this add-on to your store will give your customers more flexibility in their payment options and help you achieve your business goals.
[