FOR DEMO WHATSAPP US ON +2348061676089
SEND US A MESSAGE ON FACEBOOK FOR MORE INFO and DEMO
https://facebook.com/websaro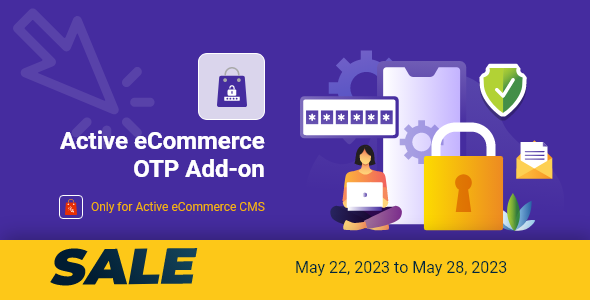 Active eCommerce OTP add-on is a powerful and secure add-on for Active eCommerce CMS that provides an additional layer of security to your customers' accounts. This add-on requires users to enter a one-time-passcode (OTP) to access their account, creating a secure and safe shopping experience.
Features:
1. SMS Verification: This add-on provides SMS verification to customers for account verification and confirmation.
2. Two-Factor Authentication: It enables two-factor authentication for customers, adding an extra layer of security to their accounts.
3. Unique Passcode: Each OTP is unique, ensuring a high level of security and reducing the risk of phishing attacks.
4. Customizable Message: You can customize the message content of the OTP sent to your customers.
5. User-friendly Interface: The intuitive and user-friendly interface makes it easy for your customers to enter the OTP code.
6. Online Verification: This add-on verifies users' accounts online, making it easier and faster to authenticate user accounts.
7. Multi-Language Support: This add-on is translation ready, supports multi-language, and allows customers to verify their accounts in different languages.
Active eCommerce OTP add-on helps you improve customer security and trust, safeguarding your customers' information against unauthorized access. It improves the shopping experience and is suitable for various online businesses, including e-commerce stores, booking websites, and online service providers. Buy it now and take your website's security to the next level.
[