FOR DEMO WHATSAPP US ON +2348061676089
SEND US A MESSAGE ON FACEBOOK FOR MORE INFO and DEMO
https://facebook.com/websaro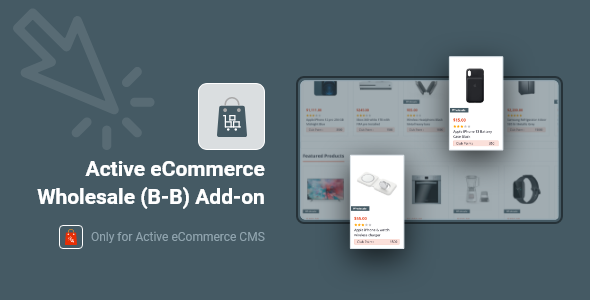 Active eCommerce Wholesale (B-B) Add-on is a powerful extension to the Active eCommerce platform that allows you to add wholesale functionality to your online store. Whether you want to sell products to other businesses or want to offer special pricing to corporate buyers, this add-on has everything you need.
With the Active eCommerce Wholesale (B-B) Add-on, you can:
1. Create Wholesale Customer Groups: You can create groups of wholesale customers with specific pricing, discounts, and other customizations.
2. Set Wholesale Pricing: Set different pricing structures for your wholesale customers based on their group and other criteria.
3. Add Minimum Order Quantity: You can set a minimum order quantity for your wholesale customers.
4. Approval of Wholesale Customers: Approve the customers for their respective Wholesale Customer Group and after verification the wholesaler will be granted access to your store.
5. Wholesale Order Management: Manage wholesale orders separately from regular orders with features like bulk order processing, order status updates, and reporting.
6. Customizable Emails: You can customize the emails that your wholesale customers receive when they place an order or when their order status changes.
7. Dashboard for Wholesale Customers: Your wholesale customers can log in to their own dashboard to view their past orders, track their orders, and manage their account details.
8. Separate Shipping and Payment Methods: You can create different shipping and payment methods for wholesale orders to streamline the ordering process.
9. Tax Exemptions: You can set up tax exemptions for your wholesale customers based on their location and other criteria.
Overall, the Active eCommerce Wholesale (B-B) Add-on is the perfect solution for businesses looking to expand their sales to other businesses or offer special pricing to corporate buyers. With its powerful features and easy setup, you can create a seamless wholesale operation without any hassle.
[