FOR DEMO WHATSAPP US ON +2348061676089
SEND US A MESSAGE ON FACEBOOK FOR MORE INFO and DEMO
https://facebook.com/websaro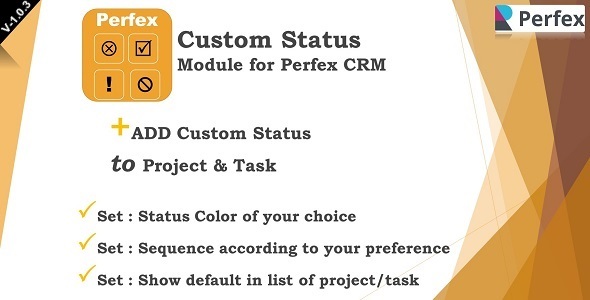 The Add-on Statuses Module for Perfex CRM is a powerful tool that enables you to manage the statuses of your add-ons efficiently. This module provides a simple and intuitive interface to help you keep track of your add-ons, and their current status in your system.
This module comes packed with an array of features that make it the perfect choice for businesses of all sizes. Some of the key features of the Add-on Statuses Module for Perfex CRM include:
1. Custom Statuses: You can create as many statuses as you want for your add-ons. This gives you the flexibility to manage your add-ons according to your needs.
2. Color-coded Statuses: You can assign a different color to each status to make it easy to identify the status of an add-on at a glance.
3. Bulk Actions: You can perform bulk actions on your add-ons, such as changing their status, moving them to a different project, or deleting them.
4. Automated Notifications: You can set up automated notifications to inform your team when an add-on is updated or when its status changes.
5. Advanced Filters: You can use advanced filters to sort and display add-ons based on their status, creation date, or other criteria.
6. User Permissions: You can control who can access the Add-on Statuses Module for Perfex CRM and what actions they can perform.
7. Easy Integration: The module is easy to install and integrate with your existing Perfex CRM installation.
The Add-on Statuses Module for Perfex CRM is a powerful tool that helps you manage your add-ons and keep track of their status. With its array of features, this module is sure to meet the needs of businesses of all sizes. So, why wait? Get it today and start managing your add-ons like a pro!
[