FOR DEMO WHATSAPP US ON +2348061676089
SEND US A MESSAGE ON FACEBOOK FOR MORE INFO and DEMO
https://facebook.com/websaro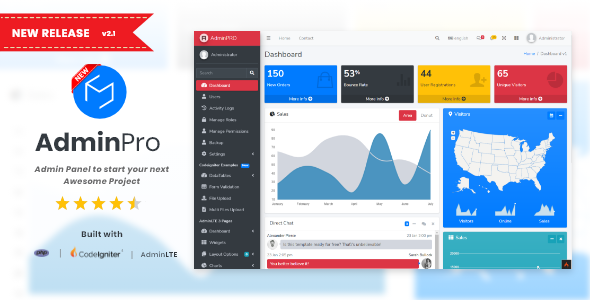 AdminPro is a powerful web application that provides expert-level login, user management, roles and permissions, and more. Built using the latest in web development technology, including Codeigniter, Bootstrap 4, and the AdminLTE template, this item is perfect for any web application that needs a polished, professional, and user-friendly admin panel.
With AdminPro, you can empower your users with custom roles, permissions, and access levels, giving your application the flexibility and scalability it needs to meet the changing demands of your business. Plus, with a sleek and modern user interface, your users will enjoy seamless navigation and intuitive design, ensuring a positive experience every time.
Features:
– Login System: AdminPro comes with a rock-solid authentication system, with secure password hashing and protection against brute-force attacks. Your users can sign up, log in, and reset their passwords with ease.
– Multi-User Management: AdminPro is fully equipped with multi-user management capabilities, allowing you to manage all your users, their details, and their roles with just a few clicks. You can even add, edit, delete, and suspend users as needed.
– Roles & Permissions: Create custom roles and permissions for your users, giving them the access they need to perform their tasks while ensuring security and compliance. Whether you have managers, administrators, or employees, AdminPro has you covered.
– Responsive Design: AdminPro is built using Bootstrap 4 and AdminLTE, giving it a fully responsive and mobile-friendly design. Whether your users are on their desktops or mobile devices, they will enjoy a seamless and intuitive experience throughout.
– Dashboard: AdminPro comes with a powerful dashboard that displays all the critical data you need to manage your application effectively. You can use charts, tables, and graphs to visualize data, and even customize the widgets to your preferences.
– Customizable Settings: AdminPro gives you the power to customize the settings of your application, giving you full control over the look and feel of your admin panel. You can even customize the logo, name, and color scheme to match your brand.
– Clean Code: AdminPro is built using best-in-class coding principles and practices, ensuring clean, readable, and maintainable code. You can easily add new features, integrate third-party tools, and modify the application as needed.
– Easy Installation: AdminPro is easy to install and set up, with clear documentation that guides you through the process step by step. You can have your admin panel up and running in no time!
In summary, AdminPro is an all-in-one solution that provides robust login and user management, roles and permissions, customization settings, and much more. Built on a modern architecture and featuring a responsive design, this item is perfect for any web application that needs a professional and user-friendly admin panel.
[