FOR DEMO WHATSAPP US ON +2348061676089
SEND US A MESSAGE ON FACEBOOK FOR MORE INFO and DEMO
https://facebook.com/websaro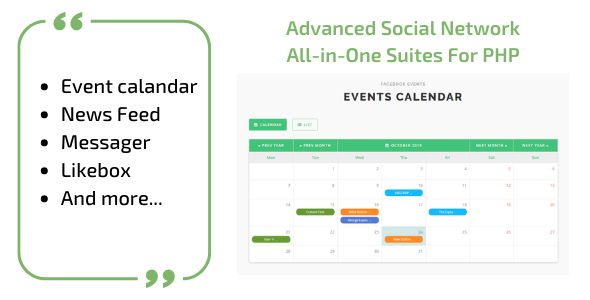 Advanced Social Network All-in-One Suites For PHP is the ultimate solution for building your own social networking platform with ease. It's packed with all the key features and tools you need to create a thriving online community and engage your users.
Features:
1. User Profiles – Allow your users to create and customize their own profiles with images, bio, interests, and more.
2. Activity Stream – Keep your users engaged with an activity stream that displays the latest updates, posts, and comments by their friends and followers.
3. Groups – Create and join groups centered around common interests or topics.
4. Friendships – Allow users to connect and build relationships by adding one another as friends.
5. Messaging – Facilitate private communication between users through a messaging system.
6. Notifications – Keep users informed with notifications for new messages, friend requests, and other updates.
7. Photos and Videos – Let users share and upload their own photos and videos, or use third-party integrations like YouTube and Vimeo.
8. Events – Create and promote events for users to attend, with RSVP functionality and event calendars.
9. Blogs – Allow users to create their own blogs with articles, stories, and multimedia content.
10. Forums – Create discussion forums for users to engage in threaded conversations, Q&A sessions, and more.
11. Admin Dashboard – Manage users, content, settings, and more with a powerful admin dashboard.
12. Extensibility – Customize and extend the platform with plugins, themes, and integrations.
With Advanced Social Network All-in-One Suites For PHP, you can create a platform that fosters community, collaboration, and engagement like never before. Whether you're building a niche social network for a specific interest group or a general-purpose platform that connects people from all around the world, this suite provides all the tools you need to make it happen.
[