FOR DEMO WHATSAPP US ON +2348061676089
SEND US A MESSAGE ON FACEBOOK FOR MORE INFO and DEMO
https://facebook.com/websaro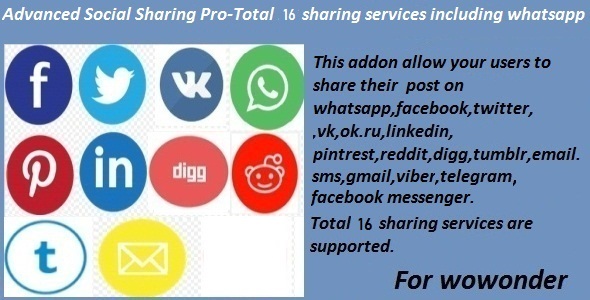 Advanced Social Sharing Pro for WoWonder is a powerful plugin that lets your users share your content on various social media platforms. With this plugin, you can give your users the ability to share your content with a click of a button. This plugin is perfect for those who want to improve their website's social media visibility and drive more traffic to their website.
Features:
1. Easy to Install: The plugin is simple and easy to install with no coding skills required.
2. Social Sharing: Share your content across different social media platforms like Facebook, Twitter, LinkedIn, Pinterest, WhatsApp, and more.
3. Customizable Design: The plugin lets you customize the design of your social sharing buttons to match your website's design.
4. Multiple Placement Options: The plugin offers multiple placement options for the social sharing buttons, including app-start, app-end, and content-start.
5. Flexible Settings: The plugin offers flexible settings that allow you to control how the social sharing buttons behave and what content is shared.
6. Seamless Integration: The plugin integrates seamlessly with WoWonder, making it easy to use and manage.
7. Boost Traffic: The plugin helps you drive more traffic to your website by making it easy for users to share your content.
Overall, this plugin is an excellent tool for anyone who wants to improve their website's social media presence and drive more traffic to their website. It is user-friendly, customizable, and offers multiple placement options, making it a must-have for any WoWonder website.
[