FOR DEMO WHATSAPP US ON +2348061676089
SEND US A MESSAGE ON FACEBOOK FOR MORE INFO and DEMO
https://facebook.com/websaro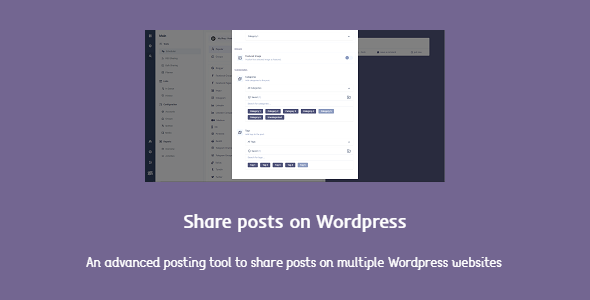 Introducing the most advanced tool to share your posts instantly across multiple WordPress websites – an essential plugin for any blogger, marketer or business owner!
With this tool, you can instantly distribute your posts to multiple websites with just a click of a button, saving you hours of time and effort. And with its array of powerful features, you'll be able to take your content distribution to the next level and drive more traffic than ever before.
Here are just a few of the features that make this tool so powerful:
1. INSTANT POST SHARING – Share your posts instantly and automatically on all your WordPress websites as soon as you publish them.
2. UNLIMITED WEBSITES – Add unlimited WordPress websites to your distribution list so you reach as many audience as possible.
3. CATEGORY FILTERING – Filter the posts shared across the websites by their respective categories – ensuring relevance and accuracy of the shared content.
4. CUSTOM POST TEMPLATES – Choose from different templates and styles to create custom posts that match the tone and style of each website.
5. ADVANCED SCHEDULING – Schedule posts to be shared at different times across different websites, maximizing your audience reach and engagement.
6. FULLY AUTOMATED – With this tool you don't have to worry about a thing – it will automatically share your posts based on the schedule you've set..
7. FREE SUPPORT – We offer free customer support, so you can contact us any time if you have questions or concerns.
This advanced tool has everything you need to take your content distribution to the next level – saving you time, maximizing your reach and ultimately driving more traffic to your website. So, get started today, and take the first step towards a successful content marketing strategy.
[