FOR DEMO WHATSAPP US ON +2348061676089
SEND US A MESSAGE ON FACEBOOK FOR MORE INFO and DEMO
https://facebook.com/websaro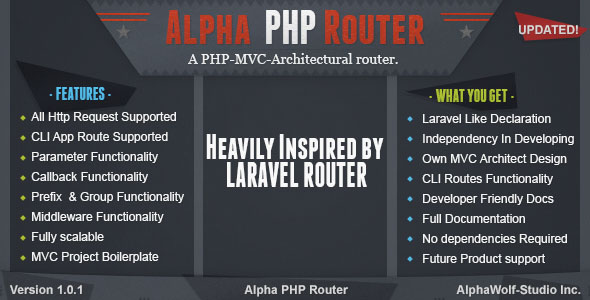 Alpha PHP router is an advanced PHP router built on the PHP-MVC architectural pattern. It is a standalone router that you can use with Laravel or any other PHP-based framework. Alpha PHP router is designed to help you easily manage and organize your routes, making it easy to create complex applications with minimal effort. It comes with a wide range of features that make it the perfect solution for building any type of web application.
Feature List:
1. Lightweight and easy to use
2. MVC architectural pattern
3. Compatible with Laravel and other PHP-based frameworks
4. Flexible route configuration
5. Multiple route patterns and parameters
6. Middleware support
7. Customizable 404 error page
8. Route caching for improved performance
9. Customizable URL generation
10. Customizable routing hierarchy
Alpha PHP router is an essential tool for building a powerful and scalable web application. It provides you with all the necessary features to manage and organize your routes effectively, from complex URLs to middleware support. If you want to build a web application that is both powerful and easy to manage, Alpha PHP router is the perfect solution for you.
[