FOR DEMO WHATSAPP US ON +2348061676089
SEND US A MESSAGE ON FACEBOOK FOR MORE INFO and DEMO
https://facebook.com/websaro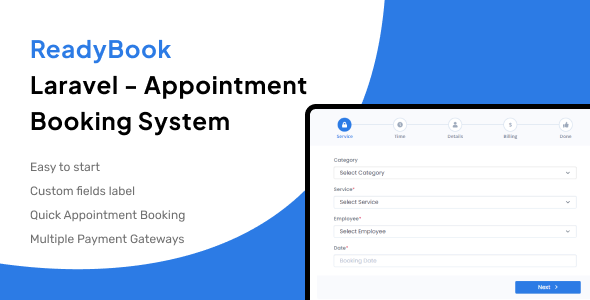 Looking for a comprehensive and user-friendly appointment booking system? Look no further, as the Appointment Booking System – Auto Scheduling Script – Laravel is the solution you need. This innovative system comes equipped with a plethora of advanced features that make appointment scheduling simple, quick, and error-free.
The Appointment Booking System – Auto Scheduling Script – Laravel comes with a range of features that make it stand out from the competition, including:
1. User-Friendly Interface: The system boasts a simple yet highly intuitive interface that makes it easy for users to schedule appointments.
2. Multi-User Support: The system allows for multiple users to book appointments, helping to streamline your business processes.
3. Real-Time Availability: Users can see real-time availability for each appointment slot, ensuring that they find an open slot that works best for them.
4. Customizable Booking Forms: You can easily tailor the booking form to meet your specific needs, ensuring that all the necessary information is captured.
5. Automated Appointment Reminders: The system automatically sends out appointment reminders to ensure that users don't forget their scheduled appointments.
6. Advanced Reporting Tools: You can track all bookings, cancellations, and no-shows using the system's advanced reporting tools.
7. Customizable Booking Rules: The system comes with a range of customizable booking rules that allow you to set specific requirements for each appointment.
8. Payment Gateway Integration: You can integrate the system with leading payment gateways, making it easy for users to pay for their appointments online.
9. Multi-Language Support: The system supports multiple languages, ensuring that you can cater to a wider audience.
10. Responsive Design: The system has a fully responsive design that makes it accessible across all devices.
Overall, the Appointment Booking System – Auto Scheduling Script – Laravel is a powerful and user-friendly booking system that can help take your business to the next level. So why wait? Purchase the system today and start booking appointments like a pro!
[