FOR DEMO WHATSAPP US ON +2348061676089
SEND US A MESSAGE ON FACEBOOK FOR MORE INFO and DEMO
https://facebook.com/websaro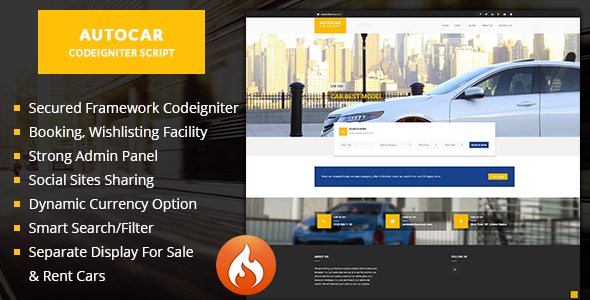 Auto car is a powerful, easy-to-use car listing script that allows car dealers to create their own online car dealership website. With Auto car, car dealers can effortlessly manage their inventory and showcase their vehicle listings to potential customers.
Auto car is designed to help car dealers and sellers save time and money by streamlining the process of managing their car listings. It offers a range of features and tools that allow users to effortlessly manage and display their cars, including a customizable website template, advanced search and filtering options, and an easy-to-use content management system.
List of features:
– Responsive design: Auto car has a fully responsive design that looks great on all devices, whether it's a desktop computer, tablet, or mobile device.
– Customizable website template: Car dealers can choose from a range of website templates and customize them to suit their needs.
– Advanced search and filtering options: Users can easily find their desired car by filtering make, model, year, price range, mileage, and location.
– Easy-to-use content management system: Car dealers can easily add, edit, and delete car listings from their website using the Auto car content management system.
– Google Maps integration: Auto car has Google Maps integration, which makes it easy for users to locate the dealership and find the exact locations of the cars they're interested in.
– Lead generator forms: Auto car comes with pre-made lead generator forms that car dealers can use to collect leads and follow up with potential buyers.
– SEO optimized: Auto car is SEO optimized for search engine visibility, ensuring that car listings are easily found by potential customers.
– Social media integration: Car dealers can promote their inventory and drive traffic to their site using social media integration.
– Support multiple languages: Auto car supports multiple languages to cater to a global audience.
– User-friendly dashboard: Auto car has a user-friendly dashboard that makes it easy for car dealers to manage their inventory, respond to leads and inquiries, and track their website's performance.
With Auto car, car dealers and sellers can manage all aspects of their online car dealership website with ease. It's the ultimate solution for anyone looking to automate the process of managing their car listings and maximize their online exposure. Get Auto car today and take your online car dealership to the next level!
[