FOR DEMO WHATSAPP US ON +2348061676089
SEND US A MESSAGE ON FACEBOOK FOR MORE INFO and DEMO
https://facebook.com/websaro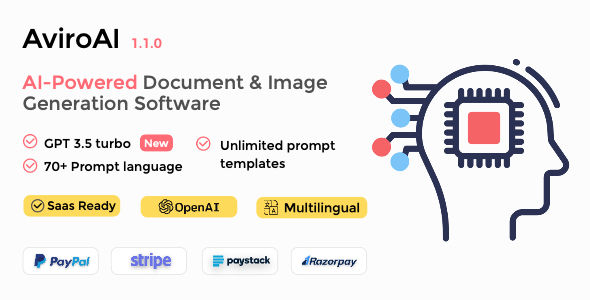 AviroAI is a cutting-edge SaaS platform that leverages the power of AI to generate top-quality documents and images. With AviroAI, users can quickly and easily create professional-grade reports, presentations, infographics, and much more with just a few clicks of a button.
Here are some of the key features of AviroAI:
1. AI-Driven Design Features: AviroAI's advanced design algorithms help create visually compelling documents and images that will make a lasting impression on your clients and colleagues.
2. Wide Range of Templates: Choose from a wide range of pre-designed templates that are optimized for various applications. Whether you need a report, a presentation, or an infographic, AviroAI has got you covered.
3. Instant Customization: With AviroAI, you can easily customize your documents and images to suit your specific needs. Quickly add your brand identity, unique data sets, and other customizations to make your content work for you.
4. User-Friendly Interface: AviroAI's intuitive interface makes it easy for anyone to use. Whether you're a student, a business professional, or a creative artist, you can start using AviroAI right away without any training or special expertise.
5. State-of-the-Art Data-Visualization: AviroAI's powerful data-visualization tools allow you to easily create stunning infographics and other data-driven content that tells a story. Say goodbye to static charts and graphs, and hello to dynamic, interactive content that engages your audience.
6. Seamless Collaboration: With AviroAI, you can share your documents and images with others in real-time, no matter where they are. Collaborate with colleagues, clients, and partners, and work together to create amazing content that gets results.
In conclusion, AviroAI is the perfect tool for anyone who wants to create top-quality documents and images quickly and easily. From business reports to marketing materials, social media graphics to academic research, AviroAI is the future of content creation. Try it today and see the difference for yourself!
[