FOR DEMO WHATSAPP US ON +2348061676089
SEND US A MESSAGE ON FACEBOOK FOR MORE INFO and DEMO
https://facebook.com/websaro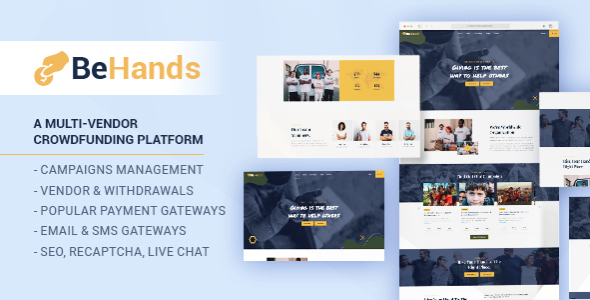 BeHands is a powerful and feature-packed global multivendor crowdfunding platform that empowers individuals, startups, and businesses to raise funds from a vast community of backers from all around the world. This powerful platform makes it easy for entrepreneurs to showcase their innovative ideas and projects and connect with the right investors who can help turn their visions into a reality.
With BeHands, you get access to a comprehensive set of features and functionalities that make crowdfunding fun, engaging, and effective. Some of the key features of this platform include:
1. Multi-vendor support: BeHands is designed to cater to the needs of both startups and established businesses, enabling them to raise funds through a single, unified platform.
2. Comprehensive crowdfunding tools: BeHands offers a wide range of tools and features that enable users to create, launch, and manage their crowdfunding campaigns with ease.
3. User-friendly interface: The BeHands platform has been designed to be easy to use and navigate, regardless of your level of technical expertise.
4. Project management tools: BeHands comes with a powerful set of project management tools that enable you to keep track of your progress, in real-time, and make adjustments as needed.
5. Advanced reporting and analytics: BeHands offers extensive reporting and analytics capabilities that enable you to track campaign performance, identify trends, and make data-driven decisions.
6. Payment processing and security: BeHands integrates with leading payment gateways to process transactions securely, while ensuring that your data and confidential information remain protected.
7. Global language and currency support: BeHands offers support for multiple languages and currencies, making it easy for users from all around the world to participate in your crowdfunding campaigns.
8. Mobile-responsive design: The BeHands platform is designed to be mobile responsive, ensuring that users can access your campaign from any device, at any time.
With these features and many more, BeHands is a comprehensive and powerful solution for global multivendor crowdfunding. Whether you are a first-time entrepreneur or an established business looking to raise funds, BeHands has everything you need to turn your dreams into reality.
[