FOR DEMO WHATSAPP US ON +2348061676089
SEND US A MESSAGE ON FACEBOOK FOR MORE INFO and DEMO
https://facebook.com/websaro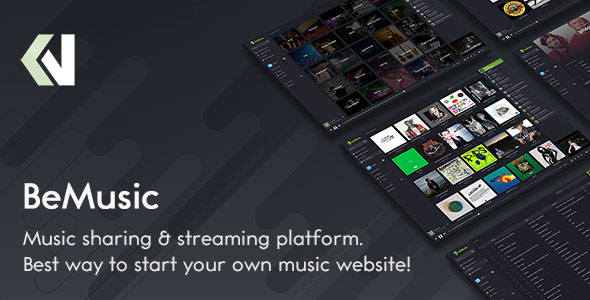 BeMusic is a powerful music streaming engine that allows you to create your own music streaming platform similar to industry giants such as Spotify and Apple Music. With BeMusic, you can easily upload and manage your music, create playlists, and manage users and subscriptions.
Features:
1. Fully responsive design: BeMusic comes with a fully-responsive design that allows your site to adapt to any screen size or device.
2. Intuitive admin panel: BeMusic provides an easy-to-use admin panel that allows you to manage your music, playlists, users, and subscriptions with ease.
3. Advanced audio player: BeMusic comes with an advanced audio player that supports multiple formats. It allows users to create playlists, shuffle and repeat tracks, and adjust volume and sound quality.
4. Robust search feature: BeMusic offers a powerful search feature that allows users to search for tracks, artists, and albums. Results are displayed instantly, making it easy for users to find the music they love.
5. User management: BeMusic allows you to manage user registrations, subscriptions, and billing. You can choose between different subscription plans and set up payment gateways.
6. Playlist management: BeMusic offers playlist management features that allow users to create, edit, and delete playlists. Users can also share their playlists with others.
7. Social media integration: BeMusic supports social media integration, allowing users to sign in with their social media accounts or share their music on social media platforms.
8. Multiple languages: BeMusic supports multiple languages, making it easy for users from different countries to use your platform.
9. Customizable themes: BeMusic comes with multiple customizable themes that allow you to change the design of your site. You can choose from pre-designed templates or create your own.
BeMusic is the perfect solution for anyone looking to create a music streaming platform. Whether you're a musician looking to share your music or a music enthusiast looking to create a music streaming service, BeMusic has everything you need. Get it now and start building your music streaming platform today!
[