FOR DEMO WHATSAPP US ON +2348061676089
SEND US A MESSAGE ON FACEBOOK FOR MORE INFO and DEMO
https://facebook.com/websaro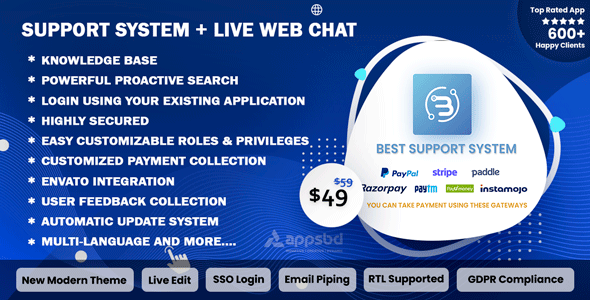 Best Support System is an all-inclusive customer support solution that allows businesses to cater to their clients efficiently. With live web chat, client desk, and ticket help desk features, clients can effortlessly reach out to businesses and get the help they need.
This software is perfect for businesses of all sizes looking to improve their customer support. It includes a plethora of features that help businesses stay on top of their support tickets and queries. Here are the features of Best Support System:
1. Live Web Chat: Best Support System offers a live web chat feature that allows businesses to chat with their clients in real-time. This feature is perfect for businesses with quick responses to client inquiries.
2. Client Desk: This feature offers clients a platform to communicate with businesses. The client desk provides a dashboard where clients can easily send and receive messages regarding their inquiries.
3. Ticket Help Desk: The ticket help desk allows businesses to create and manage support tickets. With this feature, support staff can provide prompt responses to ticket queries.
4. Knowledge Base: This feature provides a platform for businesses to create a centralized library of frequently asked questions (FAQs) and their respective answers.
5. Surveys: Best Support System includes a survey feature that enables businesses to gather feedback from their clients.
6. Email Notifications: This system provides email notifications for clients, ensuring that they receive prompt updates on their support tickets.
7. User Management: This feature enables businesses to manage their teams and grant access permissions based on roles.
8. Customizable Themes: Best Support System offers various customizable themes that businesses can modify to fit their brand identity.
Try Best Support System today and improve your customer support experience. With its robust features, businesses can offer prompt and efficient support to their clients, reducing churn, and enhancing customer loyalty.
[