FOR DEMO WHATSAPP US ON +2348061676089
SEND US A MESSAGE ON FACEBOOK FOR MORE INFO and DEMO
https://facebook.com/websaro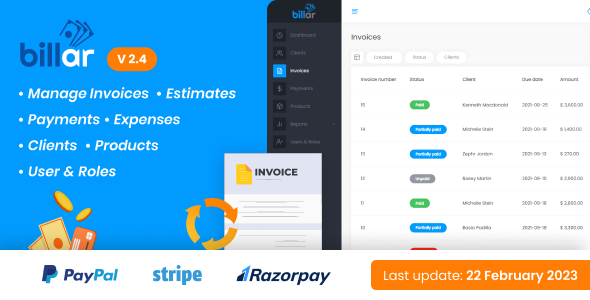 Billar – Invoice Management System is a comprehensive solution for managing invoicing and billing processes for businesses of all sizes. The system streamlines all invoicing tasks, from creating invoices and estimates to tracking payments and generating financial reports.
Features:
1. User-friendly interface: The sleek and intuitive interface of the application makes it easy to use for users with little to no experience.
2. Invoices and Estimates: Create professional-looking invoices and estimates quickly and easily. Add line items, taxes, and discounts to your invoices and estimates.
3. Document Management: Easily upload and manage supporting documents for your invoices and estimates, such as contracts, receipts and delivery notes.
4. Automated Reminders: Never forget to follow-up on unpaid invoices again. Automated reminders ensure your payments are received on time.
5. Reporting: The system generates detailed financial reports, including Profit and Loss, Revenue by Client, and Aging Reports, so you can gain insights into your business's financial health.
6. Multi-user: Multiple users and permissions can be set up to control who can access and modify the data.
7. Customizable Templates: Customize the look and feel of your invoices and estimates to match your company branding.
8. Payment Gateways: Multiple payment gateways are integrated with the system. This makes it easy to receive payments from your clients through online transactions or payment gateways.
9. Mobile and Desktop Compatibility: Access the system anytime, anywhere, and from any device.
Billar – Invoice Management System provides a solution to simplify invoicing and streamline your billing processes. It's an easy-to-use web application that saves you time and money, so you can focus on running your business.
[