FOR DEMO WHATSAPP US ON +2348061676089
SEND US A MESSAGE ON FACEBOOK FOR MORE INFO and DEMO
https://facebook.com/websaro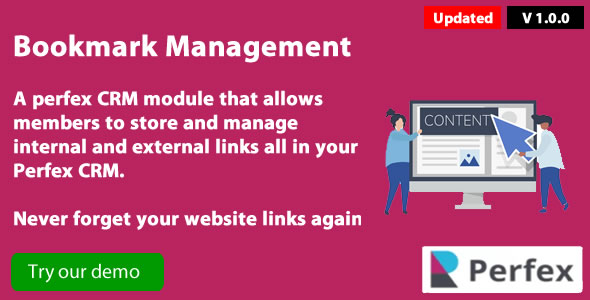 Bookmark Links module is an essential productivity tool that integrates seamlessly with your Perfex CRM. It allows you to save important links and access them in a single place, so you can quickly jump between your favorite resources without losing your rhythm.
With features like bookmarking any URL, categorizing links, and adding notes to each link, this module helps you organize your digital library materials for later use. Whether it's a blog post, a tutorial video, or a reference document, Bookmark Links makes sure that it's always within reach when you need it.
Key Features
1. Bookmark any URL – You can bookmark any internal or external URL.
2. Categorize links – You can organize your bookmarks into categories to find them easily.
3. Add notes to each link – You can add a note to each link to remember why you bookmarked it.
4. Sort by category – You can filter your bookmarks by category.
5. Drag and drop functionality – You can reorder bookmarks by dragging and dropping them.
6. Responsive UI – The UI is fully responsive and compatible with all modern browsers.
7. User-friendly – This module is easy to use and can be customized to suit your specific needs.
8. Seamless integration – This module integrates with your existing Perfex CRM seamlessly.
This is a perfect module for anyone who wants to stay organized while increasing productivity. Try Bookmark Links today and start optimizing your workflow within your Perfex CRM.
[