FOR DEMO WHATSAPP US ON +2348061676089
SEND US A MESSAGE ON FACEBOOK FOR MORE INFO and DEMO
https://facebook.com/websaro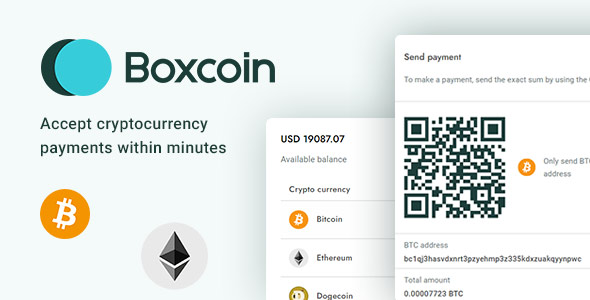 Boxcoin – Crypto Payment Script is a powerful and reliable solution for accepting payments in cryptocurrencies. This easy-to-use script can be integrated into any website or online store, making it convenient for businesses and individuals to accept payment in cryptocurrencies. It is designed specifically for those who want to accept Bitcoin and other cryptocurrencies as a form of payment. Here are some of the key features of Boxcoin:
1. Secure payment processing: Boxcoin uses a secure payment API to ensure that all transactions are safe and reliable.
2. Multiple cryptocurrencies accepted: Boxcoin accepts payments in a variety of cryptocurrencies including Bitcoin, Ethereum, Litecoin, and others.
3. Real-time exchange rates: Boxcoin ensures that the payment amount is always accurate by using real-time exchange rates.
4. Easy integration: The script can be easily integrated into any website or online store.
5. Customizable design: The script's design is fully customizable allowing you to match it to your website's branding.
6. User-friendly interface: Boxcoin has a user-friendly interface that makes it easy for customers to complete their payments.
7. Transaction history: Boxcoin keeps a detailed transaction history, allowing you to keep track of all payments and orders.
8. Automated payment confirmation: Once payment is received, Boxcoin automatically sends a payment confirmation to the customer.
If you're looking for a reliable and secure payment solution for your online store or business, Boxcoin – Crypto Payment Script is the perfect choice. It offers a hassle-free way to accept payments in cryptocurrencies. So, download Boxcoin today and start accepting payments in cryptocurrencies!
[