FOR DEMO WHATSAPP US ON +2348061676089
SEND US A MESSAGE ON FACEBOOK FOR MORE INFO and DEMO
https://facebook.com/websaro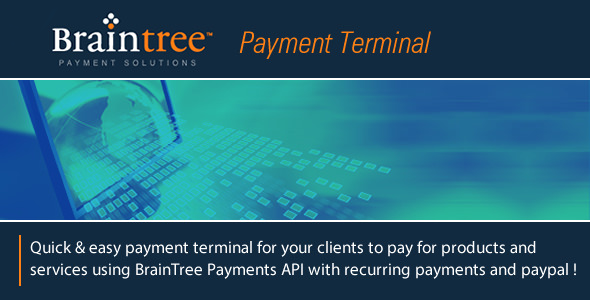 BrainTree Payment Terminal is a powerful PHP script that allows you to easily integrate BrainTree payment gateway into your website. This script is ideal for developers who want to provide their customers with a seamless and secure payment experience.
Features:
– Easy Integration: BrainTree Payment Terminal can be easily integrated into any website or CMS. The script is well-documented and comes with full technical support.
– Secure Payment Processing: BrainTree Payment Terminal utilizes the latest encryption technologies to ensure that all transactions are processed securely. The script also includes fraud protection measures to prevent any fraudulent activity.
– Multiple Payment Options: With BrainTree Payment Terminal, you can accept payments via credit/debit cards, PayPal, Venmo, Apple Pay, and Google Pay. Your customers can choose the payment method that suits them best.
– Customizable Design: The script comes with a responsive and customizable design. You can easily customize the look and feel of the payment terminal to match your branding.
– Real-Time Reporting: The script provides real-time reporting on all transactions, allowing you to keep track of your sales and revenue.
– Multi-Currency Support: BrainTree Payment Terminal supports over 130 currencies, enabling you to accept payments from customers all around the world.
– Recurring Payments: If you offer subscription services, you can set up recurring payments with BrainTree Payment Terminal. This feature allows you to automatically charge your customers at regular intervals.
With BrainTree Payment Terminal, you can provide your customers with a fast, secure, and hassle-free payment experience. Whether you run an eCommerce store, a membership site, or a subscription-based service, this script is the perfect solution for accepting online payments.
[