FOR DEMO WHATSAPP US ON +2348061676089
SEND US A MESSAGE ON FACEBOOK FOR MORE INFO and DEMO
https://facebook.com/websaro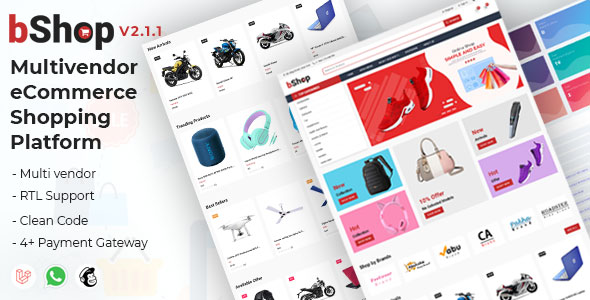 bShop is an advanced and feature-rich multivendor eCommerce shopping platform that makes online shopping experience truly seamless and easy for both buyers and sellers. Built with cutting-edge technology and robust features, bShop is perfect for anyone looking to launch a thriving online marketplace catering to diverse products and services. With a responsive design, user-friendly interface and extensive customization options, bShop is fully scalable and can meet the demands of any online business.
FEATURES:
1. Multivendor support: bShop features a robust multivendor system that makes it easy for multiple sellers to manage their products, orders, payment and shipping.
2. Responsive design: With a fully responsive design, bShop looks great and functions seamlessly across all devices, including desktops, smartphones, and tablets.
3. Admin dashboard: The admin dashboard in bShop is comprehensive and easy to use, providing detailed insights into sales, orders, customer statistics, product management, payment, and more.
4. Multiple payment options: bShop supports multiple payment gateways for hassle-free transactions, including PayPal, Stripe, and other popular options.
5. Order management: With bShop's order management system, sellers can easily track orders, shipments, and returns.
6. SEO optimization: bShop is optimized for SEO, enhancing search engine visibility for improved traffic and sales.
7. Advanced reporting: The platform provides in-depth reporting capabilities, tracking sales, products, customers, and ROI.
8. Email notifications: bShop offers a robust email notification system that keeps buyers and sellers informed of their transactions, status changes, and delivery updates.
9. Social media integration: With social media integration, bShop sellers can enhance their product visibility through social media marketing.
10. Advanced search capabilities: bShop offers advanced search functionality, making it easy for buyers to find the products they need quickly.
In conclusion, bShop is a robust multivendor eCommerce platform that provides a comprehensive solution for businesses looking to launch a top-notch online marketplace. With features such as multivendor support, responsive design, multiple payment options, order management, SEO optimization, advanced reporting, email notifications, social media integration, and advanced search capability, bShop is perfect for any business looking to thrive in the online market.
[