FOR DEMO WHATSAPP US ON +2348061676089
SEND US A MESSAGE ON FACEBOOK FOR MORE INFO and DEMO
https://facebook.com/websaro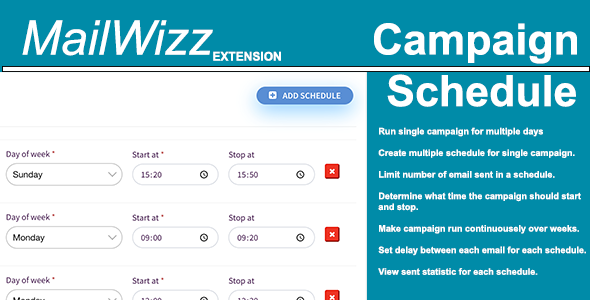 Campaign Scheduler for MailWizz EMA is an innovative plugin that simplifies the process of scheduling email marketing campaigns on MailWizz EMA. The plugin allows users to easily schedule campaigns so that they can be sent out at specific intervals and times. This is ideal for users who want to manage and automate their email marketing campaigns with ease.
Features:
1. Easy Integration: The Campaign Scheduler for MailWizz EMA is easy to integrate into your MailWizz EMA platform. With its user-friendly interface, the plugin allows you to start scheduling email campaigns immediately.
2. Simple Campaign Scheduling: With the Campaign Scheduler, you can set up and schedule campaigns in minutes. The plugin has a user-friendly scheduling interface that allows you to set the date and time for your campaign to be sent out.
3. Automate Your Campaigns: The Campaign Scheduler helps you to automate your campaigns so that you can focus on other important tasks. You can set up campaigns to be sent out at specific intervals, such as weekly or monthly.
4. Customizable Campaigns: The Campaign Scheduler allows you to customize your campaigns with ease. You can edit and add new campaigns as needed, making it easy to create the perfect email marketing campaign for your business.
5. Detailed Campaign Reports: The plugin offers detailed reports on your campaign performance, showing you key metrics such as open rates, click-through rates, and bounce rates. This helps you to optimize your campaigns and improve your ROI.
Overall, the Campaign Scheduler for MailWizz EMA is an essential tool for anyone who wants to automate and manage their email marketing campaigns. With its easy-to-use interface and powerful features, the plugin helps you to create effective campaigns that can drive sales and generate leads for your business.
[