FOR DEMO WHATSAPP US ON +2348061676089
SEND US A MESSAGE ON FACEBOOK FOR MORE INFO and DEMO
https://facebook.com/websaro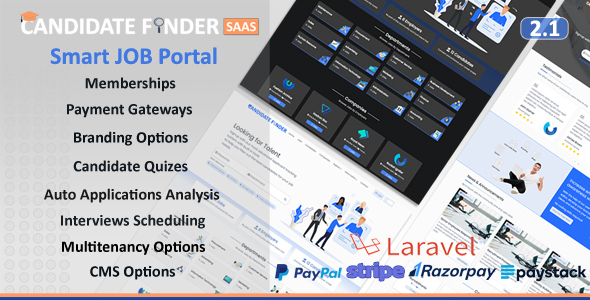 Candidate Finder SaaS is an all-in-one recruitment management and job portal system that offers a seamless hiring experience for recruiters and employers. It simplifies the hiring process by offering a powerful yet easy-to-use platform that streamlines recruitment and saves you time, money and resources.
Key Features:
1. Job Vacancy Creation: Create vacancies with specific job descriptions and requirements.
2. Applicant Tracking System: Easily track the progress of your applicants and view their resumes and applications.
3. Interview Scheduling: Schedule interviews with your applicants and candidates with ease.
4. Candidate Database Management: Manage all your applicant data, resumes and applications from one place.
5. Single Sign-On System: Access the system with one login for easy access to all features and functions.
6. Recruitment Analytics: Access analytics and recruitment reports to track your progress and monitor your hiring process.
7. Customizable Landing Pages: Create customized landing pages for your job vacancies, applicants and candidates to showcase your brand.
8. Email Templates and Notifications: Utilize our pre-built email templates and notifications to keep applicants and candidates up-to-date throughout the hiring process.
9. Multi-Language and Currency Support: Support multiple languages and currencies to reach a larger audience and look more professional.
10. SEO-Friendly Job Portal: An SEO-friendly job portal that improves your visibility on search engines and makes it easy to locate your job postings.
In conclusion, Candidate Finder SaaS offers an all-in-one recruitment management and job portal system that helps you quickly and easily find the perfect candidate for your positions. With a range of powerful features and functionalities, Candidate Finder SaaS streamlines your hiring process, so you can focus on growing your business and finding the right talent for your company. Get started today!
[