FOR DEMO WHATSAPP US ON +2348061676089
SEND US A MESSAGE ON FACEBOOK FOR MORE INFO and DEMO
https://facebook.com/websaro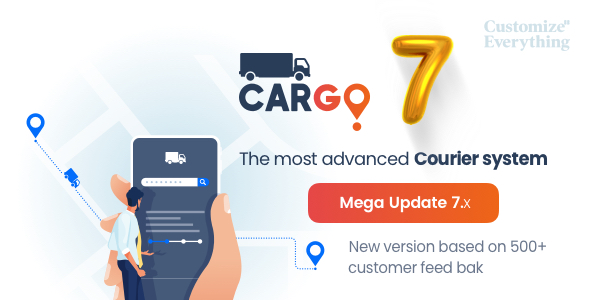 Cargo Pro is a comprehensive courier management system that is designed to ease the logistics operations of courier companies. The system offers industry-specific functionalities that cater to the day-to-day operations of courier businesses. The system is designed with a user-friendly interface that ensures that all operations from bookings to delivery are executed seamlessly. With Cargo Pro, courier businesses can streamline their operations, improve service delivery, and enhance customer satisfaction.
Listed below are some of the outstanding features of Cargo Pro:
1. Powerful Dashboard: Cargo Pro offers a comprehensive dashboard that allows courier companies to manage all their operations from a single point of access.
2. Booking Management: The booking management feature of Cargo Pro allows customers to book pickups online. The system generates an auto pickup request, and the courier company can manage and assign orders based on vehicle type, delivery date, and other details.
3. Delivery Management: With Cargo Pro, courier companies can easily manage deliveries. The system allows the courier to assign the delivery to the right driver based on vehicle capacity, delivery location, and delivery time.
4. Tracking and Monitoring: Cargo Pro provides real-time tracking and monitoring of the delivery status. The system allows customers to track their shipments, and drivers can provide status updates.
5. Invoicing and Payment: The invoicing and payment feature of Cargo Pro allows courier companies to generate invoices automatically and accept payments easily. The feature supports multiple payment channels and allows for offline payments.
6. Reporting: Cargo Pro provides detailed reporting and analytics that help courier companies analyze their business operations. The system provides insights on revenue, profitability, customer preferences, fleet performance, and more.
7. Integration and Customizability: Cargo Pro is highly integratable and can be customized based on the business needs. The system can be integrated with third-party software, payment systems, and can be customized to suit the courier company's branding and business needs.
Overall, Cargo Pro is a powerful courier management system that offers a comprehensive set of features that meet the needs of courier companies. With the system, courier businesses can streamline their operations, reduce costs, and enhance customer satisfaction.
[