FOR DEMO WHATSAPP US ON +2348061676089
SEND US A MESSAGE ON FACEBOOK FOR MORE INFO and DEMO
https://facebook.com/websaro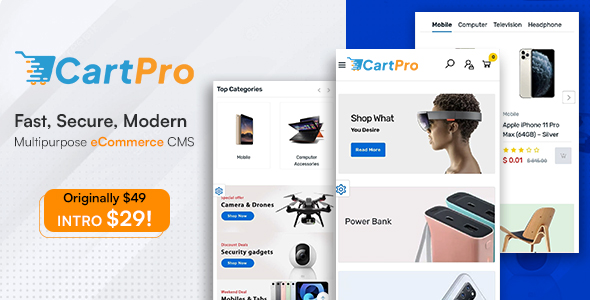 CartPro is a powerful and versatile eCommerce CMS built on Laravel, allowing you to create and manage online stores with ease. With its intuitive and user-friendly interface, you can customize your store to suit your needs and preferences, and manage everything from product listings to customer orders seamlessly.
Features:
1. Fully Responsive Design: CartPro is designed to work seamlessly on all devices, including desktops, tablets, and smartphones, ensuring an optimal shopping experience for your customers.
2. Multi-Vendor Marketplace and Vendor Commission Management: Effortlessly create and manage your own marketplace where other vendors can sell their products, set their own prices, and manage their own orders and customers. Your marketplace will be a one-stop-shop for customers and you'll be able to charge a commission on each sale.
3. Product Management: CartPro comes with a powerful product management system that allows you to easily add, edit, delete and manage any product in your store. You can set up different product variations, add product discounts, and manage your pricing and inventory with ease.
4. Order Management: Manage your orders efficiently by tracking order status, processing payments, updating order status, and much more. You can also manage shipping and delivery details, create and print invoices, and manage refunds.
5. Shipping and tax: CartPro comes with support for shipping and taxes. You can set up and define your shipping and tax rules by different geographic zones and methods.
6. Payment Gateway Integration: CartPro is integrated with various payment gateways like Stripe, Paypal, and others that allow you to accept payments from your customers easily and securely.
7. User Management: CartPro allows management for users on the site. You can create, delete, and manage user accounts, and also manage user roles and permissions to grant access to specific site features.
8. SEO Optimization: CartPro is designed to be search engine friendly, ensuring that your site ranks higher on the search engine rankings.
With its powerful tools and intuitive design, CartPro is the ideal eCommerce solution for businesses of any size looking to establish a strong online presence.
[