FOR DEMO WHATSAPP US ON +2348061676089
SEND US A MESSAGE ON FACEBOOK FOR MORE INFO and DEMO
https://facebook.com/websaro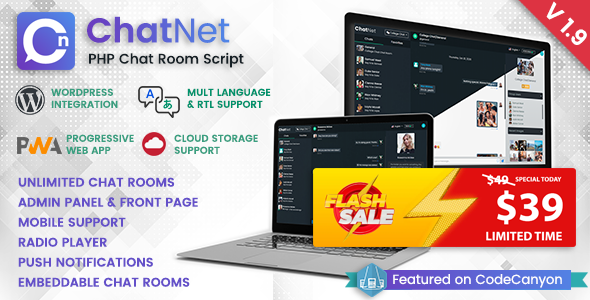 ChatNet is a powerful and flexible PHP script that allows you to quickly and easily add a chat room or private chat functionality to your website. With its user-friendly interface and advanced features, ChatNet is perfect for businesses, communities, social networks, and other websites that need a simple yet powerful chat solution.
Some of the key features of ChatNet include:
1. Chat Room: ChatNet allows you to create multiple public chat rooms, where users can join and chat with each other in real-time. You can customize the chat room layout, theme, and configuration settings, according to your needs.
2. Private Chat: ChatNet also provides private chat functionality, allowing users to send direct messages to each other. Users can create private chat rooms, invite multiple users, and have a private conversation with each other.
3. User Management: ChatNet comes with a user management system, allowing you to easily manage your users' profiles, access, and permissions. You can add, delete, edit users, and restrict access to certain features or rooms.
4. Admin Panel: ChatNet also includes an admin panel, which allows you to manage the entire chat system, from user management to room configuration. You can monitor chat activities, ban users, moderate conversations, and more.
5. Responsive Design: ChatNet is fully responsive and mobile-friendly, providing seamless chat experience across all devices. Users can chat from their desktop, tablet, or mobile phone without any compatibility issues.
6. Emojis & File Sharing: ChatNet supports emojis and allows users to share files, images, and videos directly from the chat room or private chat.
7. Other Features: ChatNet also includes features like message history, real-time notifications, custom CSS, message moderation, room locking, and much more.
ChatNet is a comprehensive and flexible chat script that can be integrated with any PHP-powered website quickly and easily. With its advanced features and user-friendly interface, ChatNet is the perfect solution for building a chat community or adding a chat room or private chat capability to your website.
[