FOR DEMO WHATSAPP US ON +2348061676089
SEND US A MESSAGE ON FACEBOOK FOR MORE INFO and DEMO
https://facebook.com/websaro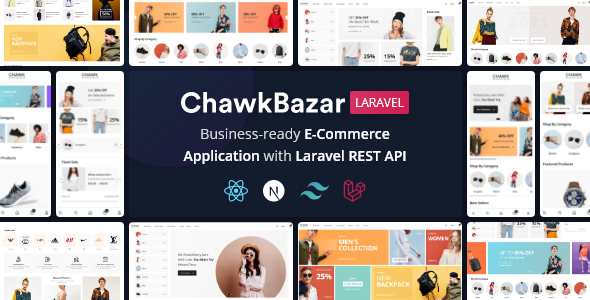 Looking for a modern and complete ecommerce solution for your online store? Look no further than ChawkBazar! Our Laravel-React-Next-REST API ecommerce platform is designed to provide everything you need to succeed online.
With ChawkBazar, you'll get a powerful multivendor platform that includes all of the essential features for running an ecommerce store, such as inventory management, order processing, shipping, and handling payments. Plus, our platform is fully customizable to suit your unique needs, with a flexible and scalable architecture that can grow with your business.
Key features of ChawkBazar include:
– Multivendor support: Allow multiple vendors to sell their products through your site, with a comprehensive vendor management interface that includes tools for managing payments, orders, and more.
– Responsive design: Our platform is fully optimized for mobile devices, ensuring that your customers have a seamless shopping experience no matter where they are.
– Easy customization: With our flexible architecture and extensive documentation, you can easily customize your storefront to your exact specifications, including adding custom modules and integrating external services.
– Next.js frontend: Our platform is built on Next.js, a powerful and popular framework that provides a fast, interactive user experience.
– RESTful API: All of our ecommerce functionality is available through a RESTful API, allowing you to easily integrate with other systems and services.
– Security: Our platform includes robust security features, including two-factor authentication and support for HTTPS encryption.
– Multiple payment gateways: We support a variety of payment gateways, including PayPal, Stripe, and more, to ensure that your customers can easily pay using their preferred method.
– Products management: Easily manage all of your products, including adding, updating products with different variations and discounts.
– Order management: Manage customer orders from your dashboard and keep track of complete order history.
– Reports: Keep track of valuable business insights such as successful orders, vendor sales report and top selling products with our reporting tool.
ChawkBazar is the ideal ecommerce solution for modern online businesses looking to grow and succeed. Get started today and see the results for yourself!
[