FOR DEMO WHATSAPP US ON +2348061676089
SEND US A MESSAGE ON FACEBOOK FOR MORE INFO and DEMO
https://facebook.com/websaro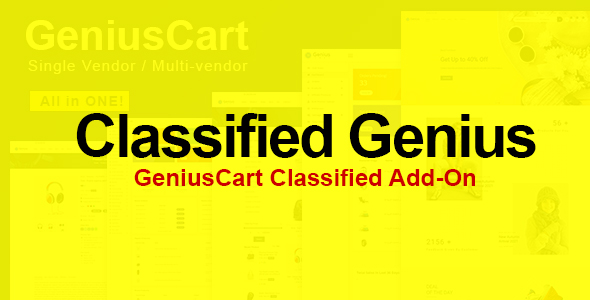 Classified Genius is a powerful add-on for the GeniusCart e-commerce system that allows users to create and manage classified ads on their online store. With Classified Genius, you can expand your online marketplace and give your customers the ability to sell products or services in a user-friendly way.
Key features of Classified Genius include:
1. User-friendly interface – The add-on is integrated seamlessly into the GeniusCart system, offering an easy-to-use interface for both store owners and customers.
2. Easy ad creation – Customers can easily create classified ads, complete with product descriptions, images, and pricing information.
3. Customizable pricing plans – Store owners can create multiple pricing plans and offer different levels of ad visibility and promotion to their customers.
4. Advanced search options – Customers can easily browse and search for specific products or services using a customizable search form.
5. Social media integration – Customers can share their classified ads on social media platforms, increasing their visibility and generating more leads.
6. Secure transactions – All transactions are processed securely through the GeniusCart system, ensuring both buyers and sellers are protected.
7. Real-time notifications – Sellers receive real-time notifications when their products are sold or when a customer contacts them regarding their ad.
Overall, Classified Genius is a highly customizable and easy-to-use add-on that provides an excellent solution for expanding your online marketplace and generating more sales.
[