FOR DEMO WHATSAPP US ON +2348061676089
SEND US A MESSAGE ON FACEBOOK FOR MORE INFO and DEMO
https://facebook.com/websaro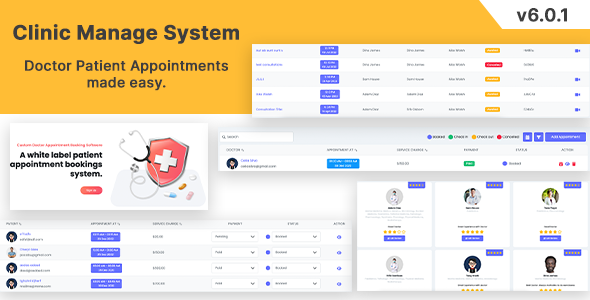 Looking for a clinic management system that can effectively manage appointments for doctors and patients alike? Look no further than Clinic Management System – Doctor Patient Appointment Management System Laravel, the ultimate solution for busy clinics and medical practices.
This versatile software is designed to help streamline your operations and improve patient care, with a wide range of features that make it easy to manage appointments, medical records, prescriptions, and more. Plus, with its intuitive interface and easy-to-use tools, even the busiest doctors and staff members can quickly learn how to use it.
Here are just some of the powerful features you'll get with Clinic Management System – Doctor Patient Appointment Management System Laravel:
– Robust appointment scheduling: Empower your staff and patients to easily schedule appointments with just a few clicks, with powerful tools that help you maximize efficiency and minimize wasted time.
– Electronic medical records: Keep all patient records organized and accessible, with easy search and navigation tools that help you compile and maintain complete medical histories.
– Prescription management: Make it easy for doctors to prescribe medication and manage patient prescriptions, with streamlined tools that help you stay on top of dosage instructions and refill requests.
– Patient portal: Give patients easy access to their medical records, appointment schedules, and prescription information, so they can take a more active role in their own health care.
– Billing and invoicing: Simplify your billing and invoicing processes, with tools that help you automate payments, track outstanding balances, and maintain accurate financial records.
– Customizable workflows: Tailor the software to your clinic's unique needs and processes, with customizable workflows and user permissions that give you complete control over how the system operates.
Whether you run a bustling medical practice or a small rural clinic, Clinic Management System – Doctor Patient Appointment Management System Laravel is the ultimate tool for managing your operations and providing top-quality care to your patients. So why wait? Try it today and see how it can take your clinic management to the next level.
[