FOR DEMO WHATSAPP US ON +2348061676089
SEND US A MESSAGE ON FACEBOOK FOR MORE INFO and DEMO
https://facebook.com/websaro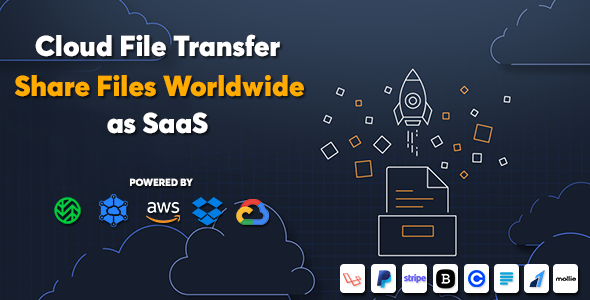 Introducing Cloud File Transfer – the ultimate file sharing and transfer service as a SaaS solution. With this powerful tool, you can easily transfer files between devices and share files with team members or clients, all with just a few clicks. And because it's a SaaS solution, you don't need to worry about managing servers or maintaining software. Here's a closer look at some of the features you'll enjoy with Cloud File Transfer:
1. Secure File Transfer: With Cloud File Transfer, you can rest easy knowing that your data is safe. Every file transfer is encrypted with SSL/TLS encryption to ensure that your data stays secure.
2. Easy-to-Use Interface: Our user-friendly interface makes it easy for you to upload or download files, organize files, and share files with others.
3. Unlimited File Size: Transfer any size of a file with Cloud File Transfer without worrying about file size limitations.
4. Custom Branding: Customize Cloud File Transfer to reflect your company's branding, from the login page to the download page.
5. File Management: Easily manage all your files in one place with our file management system. Organize files, search for specific files, and delete files as needed.
6. Multiple File Formats: Transfer any type of file, including documents, videos, audio files, and images.
7. Share Files with Others: Share files with colleagues, clients, or anyone else by sending them a download link. You can assign expiration dates or set passwords for added security.
8. Real-Time File Transfer: Transfer files in real-time, ensuring that you can send and receive files as quickly as possible.
9. API Integration: Integrate Cloud File Transfer with other applications to streamline your workflow.
10. Advanced Reporting: Get insights into your file transfer activity with advanced reporting. Track downloads, file size, and more.
Cloud File Transfer is the ideal solution for businesses, freelancers, and anyone else who needs to transfer files quickly and securely. Try it out today and experience the power of cloud-based file sharing and transfer.
[