FOR DEMO WHATSAPP US ON +2348061676089
SEND US A MESSAGE ON FACEBOOK FOR MORE INFO and DEMO
https://facebook.com/websaro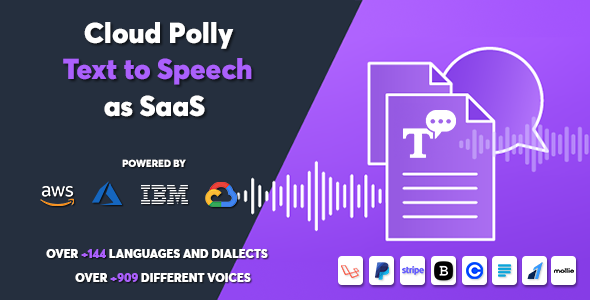 Introducing Cloud Polly – the ultimate text to speech solution as a service! This powerful SaaS platform allows you to convert any written text into natural-sounding speech within seconds using state-of-the-art AI technology. Whether you're looking to create audio versions of your blog posts, eBooks, or online courses, Cloud Polly makes it easy and affordable.
Here are some of the exciting features that come with Cloud Polly:
1. Easy-to-Use Text Editor – Our intuitive text editor allows you to quickly create or upload your content and convert it into speech.
2. Multiple Voices & Languages – Choose from a range of voices and spoken languages to create the perfect audio for your content.
3. Natural-Sounding Voices – Our advanced text-to-speech technology produces high-quality, lifelike voices that will captivate your audience.
4. Fully Customizable Settings – Customize the speed, volume, and pitch of your audio to create the perfect listening experience.
5. Easy Integration – Quickly integrate Cloud Polly into your existing apps and websites using our simple API.
6. Multi-Platform Compatibility – Cloud Polly works seamlessly across all devices and platforms, including desktops, tablets, and smartphones.
7. Affordable Pricing – With our flexible pricing plans, you can choose the option that suits your needs and budget.
Don't miss out on the opportunity to take your content to the next level with Cloud Polly – the ultimate text to speech solution as a service. Try it today and experience the power of natural-sounding speech for yourself!
[