FOR DEMO WHATSAPP US ON +2348061676089
SEND US A MESSAGE ON FACEBOOK FOR MORE INFO and DEMO
https://facebook.com/websaro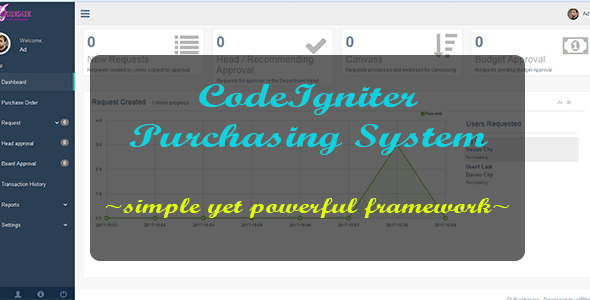 Introducing the CodeIgniter Purchasing System – a user-friendly and customizable web application that streamlines the purchasing process for businesses. Developed on the powerful CodeIgniter framework, this purchasing system offers a suite of features that make procurement an absolute breeze.
With this application, users can easily create purchase orders, manage suppliers, track inventory, and generate comprehensive reports through an intuitive and user-friendly interface. Ideal for small and medium-sized businesses, this application has been designed to help them manage their purchasing needs effectively and with minimal effort.
Key Features:
1. User-Friendly Dashboard – The dashboard is designed for non-technical users, easy to navigate and accessible from any device.
2. Manage Suppliers – Keep track of suppliers, their contact details, and the products they supply.
3. Manage Products – Manage inventory and product details, set up a reorder threshold, and receive notification alerts.
4. Create Purchase Order – Create and send purchase orders to suppliers right from the application.
5. Receive Inventory – Confirm inventory arrival from the suppliers, update inventory, and keep track of items back-ordered.
6. Approve Workflow – Control purchasing approval workflow, set up approval levels and monitor purchasing activities.
7. Generate Reports – Get valuable insights and data to make informed decisions with real-time reporting.
8. Customizable – The application is highly customizable to fit your business needs with easy-to-use configuration files.
With this comprehensive purchasing system, businesses can streamline their procurement process and enhance their productivity. So, what are you waiting for? Get your hands on this CodeIgniter Purchasing System, and revolutionize the way you purchase items.
[