FOR DEMO WHATSAPP US ON +2348061676089
SEND US A MESSAGE ON FACEBOOK FOR MORE INFO and DEMO
https://facebook.com/websaro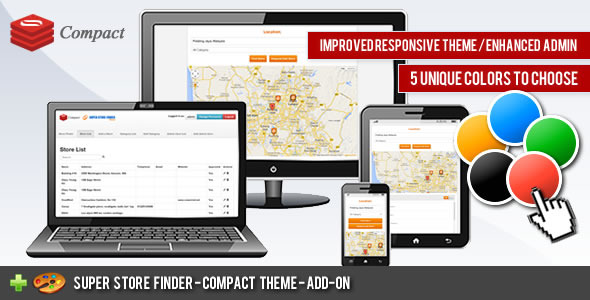 Compact Theme – Super Store Finder is a feature-rich, customizable, and easy-to-use store locator WordPress plugin for anyone who wants to display store locations with ease. Whether you have a chain of stores or a single location, this plugin can handle it all.
The plugin comes with a sleek and modern Compact theme that can be customized easily to match your brand's look and feel. It is fully responsive and mobile-friendly, ensuring that users can access your store locator from any device.
Key Features:
1. Fully customizable – You can customize the look and feel of the Compact theme to match your brand's identity.
2. Easy to use – The Super Store Finder interface is intuitive and user-friendly, making it easy for users to find your store.
3. Use custom markers – Upload and use custom markers that match your brand's design.
4. Multi-language support – Translate the store locator interface into multiple languages.
5. Shortcode support – Use the plugin's shortcode to display the store locator anywhere on your WordPress site.
6. Google Maps integration – Use Google Maps to display your store location, directions, and street view.
7. Filter stores – Use filters to narrow down the store locator results by category, distance, or name.
8. Auto-detect user location – The plugin auto-detects the users' location and shows the nearest stores.
9. Custom fields – Add custom fields to store listings for extra information.
10. Multi-store locations – The plugin supports displaying multiple store locations on one map with the ability to show/hide stores on the map.
Compact Theme – Super Store Finder is an excellent choice for anyone who wants an easy-to-use, customizable store locator plugin for their WordPress site. It's packed full of features that will make finding your stores a breeze for your users, and with its sleek and modern Compact theme, it will look great too!
[