FOR DEMO WHATSAPP US ON +2348061676089
SEND US A MESSAGE ON FACEBOOK FOR MORE INFO and DEMO
https://facebook.com/websaro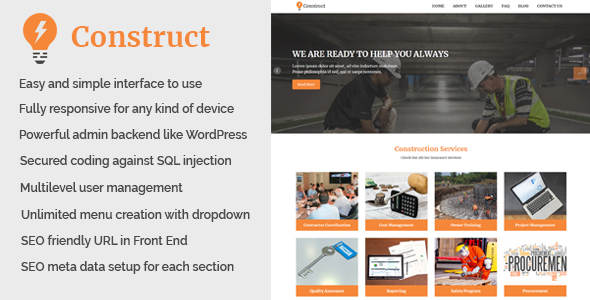 **Construct – Building and Construction Website CMS**
Construct is an advanced website content management system for building and construction service providers. With an intuitive interface and robust features, you can easily manage your website content, customers, projects, and more.
**Key Features:**
1. Customizable Website Design – Choose from multiple pre-designed templates or create your own unique design with our drag-and-drop page builder.
2. Project Management – Track and manage your construction projects with ease. Create new projects, add site photos, schedule timelines, track expenses, and more.
3. Customer Management – Keep track of your customers' information, including contact details, project history, and invoice details.
4. Invoice Management – Create personalized invoices and send them to your clients directly from the CMS. Track payment status and receive automated payment reminders.
5. Employee Management – Keep track of your employees' information, including contact details, work history, and job assignments.
6. Custom Forms – Create custom forms for your website, such as contact forms, quote requests, and feedback forms, and receive submissions directly in the CMS.
7. Search Engine Optimization – Optimize your website for search engines with customizable meta tags, headings, and keyword-rich content.
8. Social Media Integration – Connect your website to your social media channels, including Facebook, Twitter, and Instagram.
9. Mobile Responsive Design – Your website will look great on any device, whether it's a desktop computer, tablet, or smartphone.
10. Multi-Language Support – Reach a global audience with multi-language support for your website.
**Why Choose Construct:**
– Complete website management system with a focus on construction services.
– Advanced features designed specifically for the building and construction industry.
– User-friendly interface and intuitive design make it easy to use.
– Customize your website to match your brand and business needs.
– Mobile responsive design ensures your website looks great on any device.
– 24/7 customer support.
**In conclusion,** Construct is the perfect solution for building and construction companies looking for an easy-to-use, customizable website content management system with advanced project, customer, and invoice management. With its intuitive interface, robust features, and 24/7 customer support, Construct helps you streamline your website management and grow your business online.
[