FOR DEMO WHATSAPP US ON +2348061676089
SEND US A MESSAGE ON FACEBOOK FOR MORE INFO and DEMO
https://facebook.com/websaro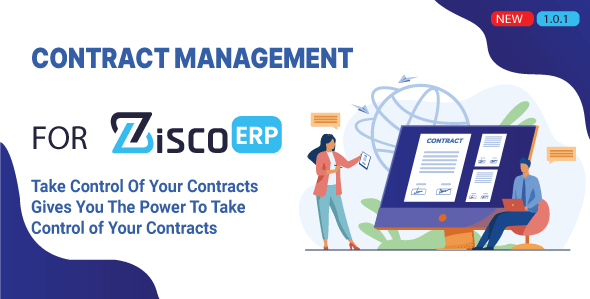 Contracts Management is a feature-rich module for ZiscoERP that simplifies the management of contracts. It streamlines the process of creating, reviewing, and approving contracts, ensuring that all parties involved in a contract are on the same page. With Contracts Management, you can easily create contracts, set up contract templates, and control the contract approval process from start to finish.
Features:
1. Contract Creation: With Contracts Management, you can create customized contracts that meet your specific business needs. You can choose from a variety of contract templates or create your own. Define contract terms, add clauses, and specify required attachments.
2. Approvals Management: The module provides an approval workflow that is fully configurable to your organization's structure and needs. With the workflow, you can define all the steps required to approve a contract, including the reviewers, approvers, and signers. You can also set up automatic notifications to remind stakeholders about pending approvals.
3. Contract Monitoring: The module provides a central repository for all your contracts, giving you visibility into the status of each contract. You can track contract timelines, view contract summaries, and get notifications of upcoming deadlines and renewals.
4. Contract Collaboration: Contracts Management provides a platform for stakeholders to collaborate on a contract, from initial review to final approval. Users can easily view documents and comments, track changes, and collaborate on contract revisions in real-time.
5. Reporting: The module provides various types of reports to help you track and manage your contracts. You can generate reports on pending and approved contracts, contract timelines, and compliance with contract terms.
Contracts Management is a valuable tool for businesses that deal with multiple contracts. With its customizable templates, flexible workflows, and powerful reporting features, this module makes contract management efficient, organized, and effective.
[