FOR DEMO WHATSAPP US ON +2348061676089
SEND US A MESSAGE ON FACEBOOK FOR MORE INFO and DEMO
https://facebook.com/websaro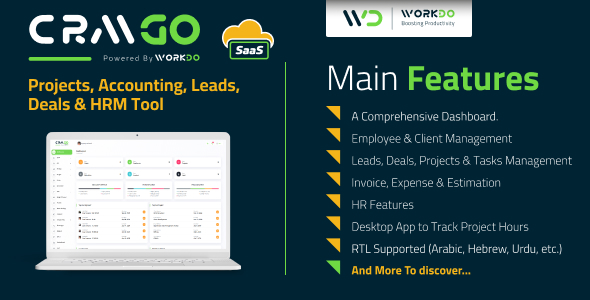 CRMGo SaaS is a complete suite of tools that can help businesses manage their projects, accounting, leads, deals, and human resources. It is a cloud-based platform that offers flexibility and convenience to businesses of all sizes.
With CRMGo SaaS, businesses can easily manage their projects by creating tasks, assigning team members, setting deadlines, and tracking progress. The platform also comes with accounting tools that make invoicing, billing, and payments a breeze. Additionally, businesses can manage their leads, deals, and pipelines, ensuring that they are always in control of their sales process.
One of the standout features of CRMGo SaaS is its HRM tool. This tool allows businesses to manage their employees' data, leave, attendance, and performance in one centralized location. HR managers can also create custom forms, conduct employee surveys, and create reports to help them make informed decisions.
Other features of CRMGo SaaS include:
– Customizable dashboards that allow businesses to view important metrics and KPIs in real-time
– Integration with third-party tools, such as Google Calendar and Slack, to increase productivity and streamline workflows
– Custom branding options, making it easy for businesses to represent their brand through the platform
– Robust security measures, including SSL and two-factor authentication, to ensure that data is secure and private
Overall, CRMGo SaaS is a powerful tool that can help businesses manage their operations effectively. It comes with all the features businesses need to stay organized, streamline workflows, and maximize their productivity.
[