FOR DEMO WHATSAPP US ON +2348061676089
SEND US A MESSAGE ON FACEBOOK FOR MORE INFO and DEMO
https://facebook.com/websaro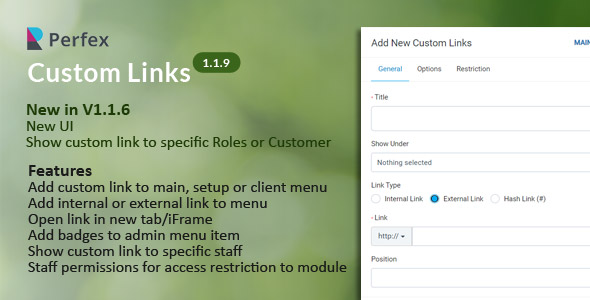 Custom Links for Perfex CRM is a powerful extension designed to extend the functionality of the Perfex CRM. It gives users the ability to add custom links to the navigation menu of their CRM. This tool helps businesses to organize their workflow, streamline their processes, and save time by accessing frequently used websites, web pages, or web applications in a single click.
To make providing a seamless user experience possible, Custom Links for Perfex CRM has been built with a user-friendly interface. Its installation is hassle-free and does not require any prior coding knowledge.
Features:
1. Add unlimited custom links: Custom Links for Perfex CRM allows businesses to add an unlimited number of custom links to their navigation menu.
2. Easy customization: Custom Links extension permits effortless customization of links, including the name and the link URL.
3. Enhance productivity: By optimizing your CRM's navigation menu with frequently used links, Custom Links for Perfex CRM improves team productivity by providing access to critical resources in less time.
4. Streamlined workflow: Custom Links extension helps businesses streamline their workflow and organize the productivity tools they use the most in one convenient location.
5. User-friendly interface: This extension has an easy-to-use interface that requires no expert coding skills, making it accessible for everyone to configure and customize.
6. Easy installation: The installation of Custom Links is hassle-free and fast, thanks to its simple setup process.
Custom Links for Perfex CRM is an essential extension for businesses looking to streamline their day-to-day operations by optimizing their navigation menu. Get started today and make access to critical resources more efficient and convenient for your team.
[