FOR DEMO WHATSAPP US ON +2348061676089
SEND US A MESSAGE ON FACEBOOK FOR MORE INFO and DEMO
https://facebook.com/websaro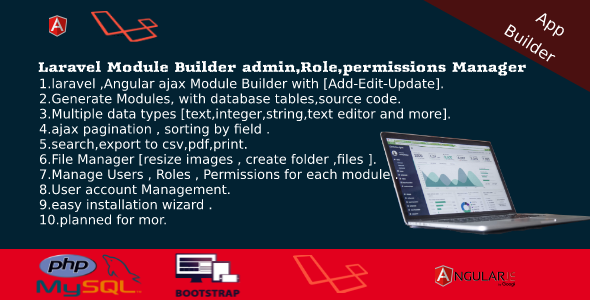 Dashboard Builder is an all-in-one solution that allows you to create custom dashboards to manage your website's data efficiently. This powerful tool provides various features, including CRUD functionality, User management, Roles, Permissions, Files Manager, Invoices, and more.
With the CRUD interface, you can create, read, update, and delete records with just a few clicks. This functionality is available for all the entities you create, making it easy to manage your site's data. The Users module allows you to manage user information, create new users, change passwords, and assign roles to them. Moreover, the Roles module helps you create roles and assign specific permissions to them.
The Permissions module allows you to set up custom permissions for each user role. You can define the actions and features that each role can access, ensuring that your users have the right level of access to your site's data. The Files Manager functionality allows you to store and manage all your website files from a single interface. It makes it easy to upload, delete, and preview all your files.
Another essential feature of the Dashboard Builder is the ability to create and manage invoices. With this functionality, you can easily create and send invoices to your clients, track payments, and manage recurring invoices.
Overall, Dashboard Builder is a powerful tool that packs all the necessary features for managing your website's data. With the easy-to-use interface, you can create custom dashboards and manage your data effortlessly. Try this tool today and take the first step towards efficient data management.
[