FOR DEMO WHATSAPP US ON +2348061676089
SEND US A MESSAGE ON FACEBOOK FOR MORE INFO and DEMO
https://facebook.com/websaro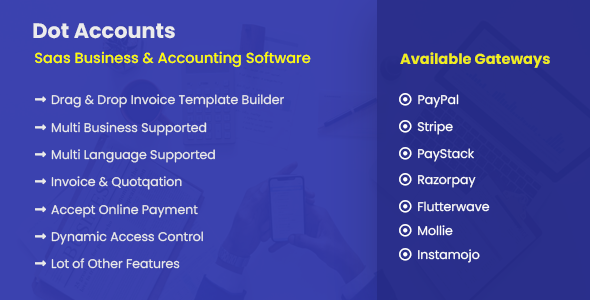 Dot Accounts is a powerful SaaS business and accounting software solution that simplifies and streamlines all your accounting operations. With Dot Accounts, you can manage your financial data with ease, and your business can grow faster.
Here are some key features of the software:
Dashboard and Reporting:
Dot Accounts provides a comprehensive dashboard that gives you an overview of your business's finances. You can also generate different kinds of reports to track your finances and make informed decisions.
Accounts Management:
With Dot Accounts, you can manage all your bank accounts, credit cards, loans, and other financial products in one central location. The software makes it easy to reconcile transactions, track balances, and manage your cash flow.
Invoicing and Payment:
Dot Accounts allows you to create and send invoices to your customers with ease. You can also manage online payments, track payments received, and set up recurring payments.
Expenses Management:
The software allows you to manage all your business expenses, including bills, receipts, and other receipts. You can easily categorize expenses, track payments and reimbursements, and ensure compliance with tax regulations.
Payroll Management:
Dot Accounts enables you to manage your employee payroll with ease. You can calculate salaries, deduct taxes, generate pay stubs, and make payments directly from the software.
CRM and Customer Management:
The software helps you manage your customer data, build relationships, and improve your customer service. You can track interactions and activities, create tasks and reminders, and automate communication with customers.
Tax Compliance:
Dot Accounts helps you stay compliant with tax regulations by automatically calculating and deducting taxes. The software also generates reports for filing taxes, and you can easily export data to tax preparation software.
Overall, Dot Accounts is an essential tool that simplifies accounting for businesses. It offers a range of features that help you manage your finances, improve your decision-making, and grow your business. Try Dot Accounts today and streamline all your accounting operations!
[