FOR DEMO WHATSAPP US ON +2348061676089
SEND US A MESSAGE ON FACEBOOK FOR MORE INFO and DEMO
https://facebook.com/websaro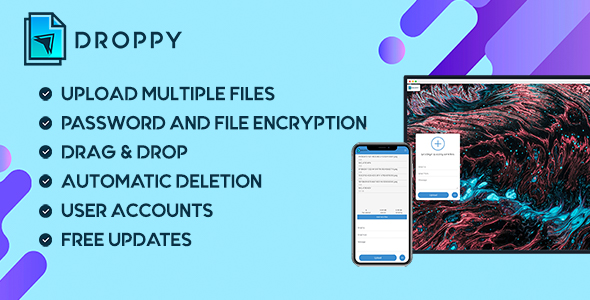 Droppy is a reliable and efficient online file transfer and sharing platform that enables users to easily and quickly share large files and documents with anyone, anywhere in the world. This powerful file sharing solution is ideal for businesses, freelancers, students, and individuals who need to send and receive large files regularly.
With a sleek and modern design, Droppy is easy to use and customizable, allowing you to create your own branded file sharing service. It supports various file formats, including documents, images, audio, and video, and comes packed with a range of useful features to make file sharing easy, safe, and secure.
Key Features:
1. File Encryption: Protect your files with state-of-the-art encryption and security protocols, ensuring that your data stays safe and secure.
2. Drag and Drop File Uploads: Allow users to upload files with ease using the simple drag-and-drop interface.
3. Multiple File Uploads: Allow users to upload multiple files at once, saving time and reducing hassle.
4. File Preview: Preview files before downloading or sharing them, making sure users get what they need.
5. Password Protection: Add password protection to your files, allowing users to access them only if they have the correct password.
6. Link Expiration: Set an expiration date for your files, ensuring that they are available for a set period only.
7. Custom Branding: Customize the look and feel of your Droppy platform to match your brand identity, creating a seamless user experience.
8. User Management: Manage and track user activity, giving you insight into how your files are being used.
9. Responsive Design: The platform is fully responsive, meaning that it works seamlessly on all devices – desktop, laptop, tablet, and mobile.
Whether you're a freelancer, student, or a business, Droppy is an essential tool for sharing files online. With its range of powerful features, Droppy provides a reliable, stable, and secure file sharing solution for all users.
[