FOR DEMO WHATSAPP US ON +2348061676089
SEND US A MESSAGE ON FACEBOOK FOR MORE INFO and DEMO
https://facebook.com/websaro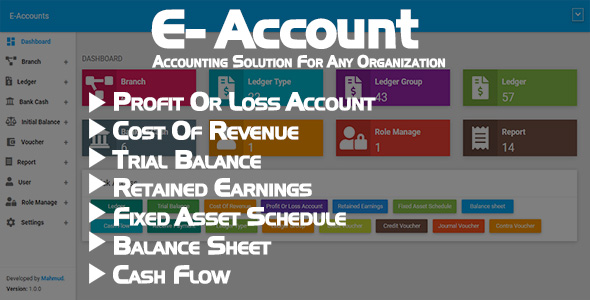 E-Account is the ultimate accounting software solution for any organization looking to streamline their financial management processes. Developed with the latest technology, this state-of-the-art software is designed to help you manage your accounting from anywhere, at any time. Whether you are a small business, a non-profit organization, or a large corporation, E-Account is the perfect solution to help you enhance your accounting processes and improve your financial management capabilities.
Features:
1. User-Friendly Interface: E-Account features an intuitive and user-friendly interface, making it easy for anyone to navigate and operate.
2. Multi-Currency Support: With support for multiple currencies, E-Account lets you manage your finances globally, with zero currency barriers.
3. Security: The software is equipped with robust security features to keep your financial information safe and secure.
4. Automated Financial Reports: E-Account provides automated financial reports that are easy to read and customizable according to your requirements.
5. Accrual-Based Accounting: The software is based on the accrual method of accounting, ensuring that you get a clear picture of your financial position.
6. Customizable Chart of Accounts: Customize your chart of accounts to your organization's unique requirements.
7. Bank Reconciliation: E-Account automates bank reconciliation, making it fast and easy to reconcile your bank accounts.
8. Journal Entries: Record journal entries for all your transactions, ensuring an accurate reflection of your financial position.
9. Time-Saving Features: E-Account comes with time-saving features like automatic data backup and transaction entry, eliminating the need for manual intervention.
10. Tax Compliance: E-Account helps you stay compliant with tax regulations by generating tax reports and calculating tax liabilities.
With E-Account, you get an all-in-one solution that helps you manage your finances efficiently while making business operations more manageable. Get started now to take your accounting processes to the next level.
[