FOR DEMO WHATSAPP US ON +2348061676089
SEND US A MESSAGE ON FACEBOOK FOR MORE INFO and DEMO
https://facebook.com/websaro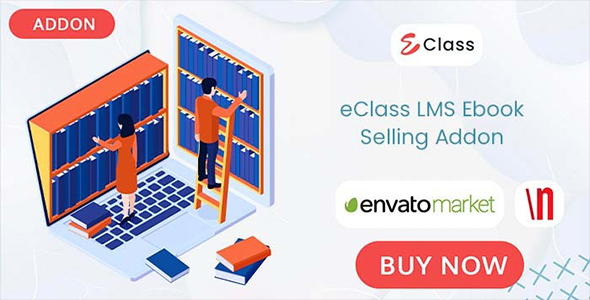 eClass LMS Ebook Selling Addon is an advanced plugin for eClass, the popular Learning Management System. This addon enables you to sell and distribute ebooks online through your eClass platform. With its intuitive interface and robust set of features, eClass LMS Ebook Selling Addon is an ideal solution for authors, publishers, and educators who want to monetize their digital content.
Features:
– Easy ebook uploading: With this addon, you can easily upload your ebooks, including PDF, EPUB, and MOBI files, to your eClass platform.
– Multiple pricing options: You can sell your ebooks at a fixed price, offer discounts, and set up subscription plans to give your readers more flexibility.
– Secure ebook distribution: eClass LMS Ebook Selling Addon uses industry-standard encryption to protect your ebooks from unauthorized access and sharing.
– Advanced reporting: You can easily monitor the sales of your ebooks and get detailed reports on revenue, downloads, and user engagement.
– Seamless integration: This addon seamlessly integrates with eClass, allowing you to manage ebook sales and distribution from a single dashboard.
– User-friendly interface: The intuitive interface of eClass LMS Ebook Selling Addon makes it easy for your readers to browse and purchase your ebooks.
– Customizable design: You can customize the design of your ebook store to match your brand and make your ebooks stand out.
With eClass LMS Ebook Selling Addon, you can easily launch your own ebook store and start selling your digital content to a global audience. Try it today and take your digital publishing to the next level.
[